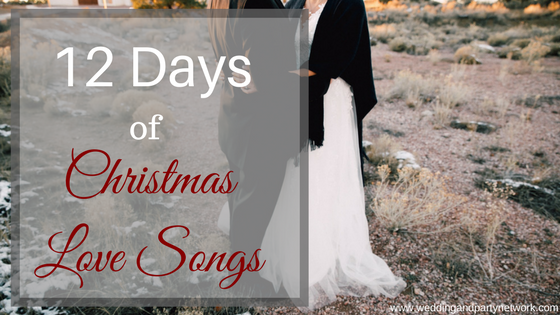 From Christmas weddings to romantic strolls through a winter wonderland, the music makes the mood. We created a love-themed Christmas playlist to help warm your heart on the coldest nights this holiday season!
Say All You Want For Christmas- Nick Jonas feat. Shania Twain 
What happens when a pop hearthrob and a country queen record a Christmas song? A Christmas song that will have you cozying up to your love in no time!
Baby, It's Cold Outside- Idina Menzel & Michael Bublé
This Christmas classic is brought to life in this rendition by Idina Menzel and Micheal Bublé and topped off with a super cute video with a Great Gatsby feel.
Please Come Home For Christmas- The Eagles
This classic rock track is perfect for a midnight dance in the snow, or to let your baby know that you'll be waiting for them to come home for Christmas.
Christmas Canon in D- Trans-Siberian Orchestra
Soothing strings and angelic choir voices make this the perfect tune for a walk down the aisle at any winter wedding!
Wrapped In Red- Kelly Clarkson
This tune all about stepping out of the shadows this Christmas and finally telling that special someone how you really feel.
Every Year, Every Christmas- Luther Vandross
Possibly one of the best Christmas love songs, Every Year, Every Christmas is a reminder of love and dedication through the years.
On This Winter's Night- Lady Antebellum
Sometimes it can be difficult to find joy and light through the negativity in this world. This song reminds us to count our blessings and be thankful for all we have, even on those winter nights.
Mistletoe- Justin Beiber
Find some mistletoe and chill with bae this Christmas!
I've Got My Love To Keep Me Warm- Dean Martin
This jazzy classic is sure to give you that warm, fuzzy feeling.
Not Just On Christmas- Ariana Grande
Telling a person you love them is important every day of the year, but there's just something about Christmas that makes love extra wonderful.
Present Without A Bow- Kacey Musgraves feat. Leon Bridges
Don't forget, the holidays are just another day if the one you love isn't around, so make sure to celebrate with them!
The Christmas Waltz- She & Him
Waltz around the Christmas tree to this relaxing holiday tune.
Listen to them all below, then go check out your local DJs!