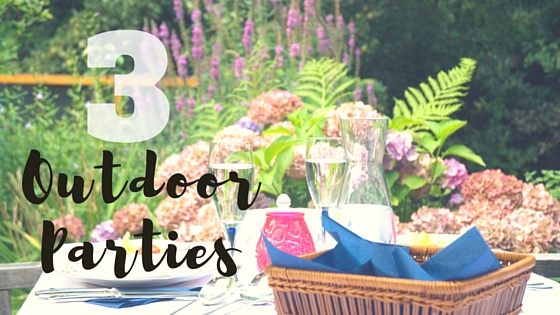 Springtime has hit and celebrating outside is way more fun than staying indoors! Check out these three fun parties we have lined up for you today.
Promotion Celebration
A couple of weeks ago, I had the privilege of celebrating a big promotion with a friend. The weather is beautiful in Utah, so naturally for the celebration we set a beautiful table out on the garden patio and enjoyed the weather. We used simple place mats and napkins for linens and had a fancy dinner under the lights! We had a blast enjoying good food, good company and victories in life. Here are the details:
On the Menu—Honey Glazed Spiced Table, Garlic Roasted Asparagus, Strawberry Spinach Salad and big chunks of Artisan bread. Strawberry Jello Cake for dessert. Cucumber Lime Spritzer, and French Mules for Signature drink.
Decor—Rattan red place mats, red, yellow and white striped napkins, white plates, silver flat ware, clear glasses. Yellow tulips from the garden in a glass vase. SIMPLE SIMPLE SIMPLE!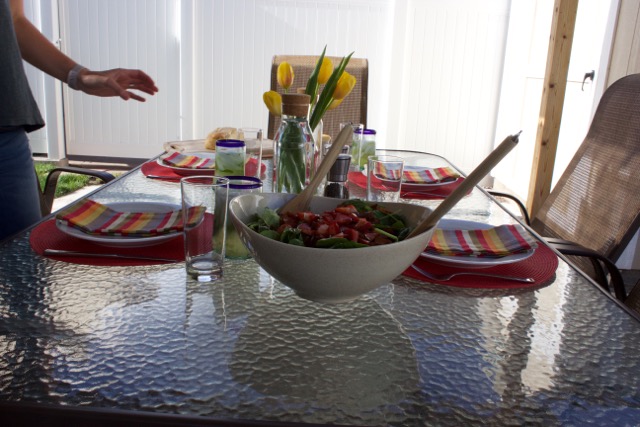 Taco Truck Meets Backyard
This party theme is so much fun! Invite friends over and host your very own backyard fiesta. Everyone loves a good taco.  Set up a taco stand where guests can create their own tacos. This theme is a great option if you are hosting a lot of people because tacos are so EASY and so CHEAP! Get your guests mingling with a fun game of corn hole. Here are the details:
Menu—Grilled Carne Asada, Smoked Brined Chimmichurri Chicken, Refried beans, Cilantro-Lime Rice, Black Bean Salsa, Guacamole, Roasted Tomatillo Salsa, Chips, Top Shelf Margaritas
Decor—Streamers, red solo plates, cups and clear plastic ware. Don't be afraid to go with plastic on this one! Easy clean up!
Gluten Free Garden Party—Girls Only!
To celebrate a friend moving, I recently attended a garden tea party with an amazing brunch. With gorgeous mountain views and blooming colorful flowers, the setting was perfect. For decorations use plastic tables on the patio with dainty white table clothes. Use chairs from your inside dining room table for a more elegant feel. The key to this party is fresh flowers, and lots of them. Your flowers should be the show stopper. Look around your yard. What do you see? Use as much as you can from your yard to cut down on cost and then splurge at your local florist for some elegant arrangements! Get all of your potted plants too and set them up around your patio so there is beauty everywhere!
Menu—Gluten Free Veggie Quiche, Gluten Free Sausage Quiche, Gluten Free Biscuits, Gluten Free Fruit Pizzas, Gluten Free Pancakes, Yogurt Bar, Mimosas, Coffee Punch, Almond Tea, Lemon Water.
Decor—Flowers! White, lacy tablecloths, antique flatware, dainty China, simple glasses, and of course tea cups.
Take these fun ideas and get outside for your next party! Find some entertaining party games to play at your party here. We can't wait to hear about your celebrations. Have fun planning!