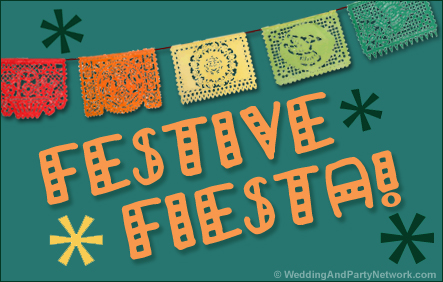 Cinco De Mayo is a spanish holiday held on the 5th of May each year, and celebrates the Mexican army's' victory over French troops in the Battle of Puebla. However, for many it is simply a day to celebrate the mexican culture.
Celebrate Cinco De Mayo With Style
Parties are a great way to get together and celebrate, but how does one go about decorating for this holiday? Why not celebrate with a festive fiesta. Here are a few tips to help plan and decorate for this holiday:
Be festive with some brightly colored party invitations with the word "fiesta" printed on them.
The Spanish are all about bright colors, so choose some brightly colored tablecloths and bowls. These are good for chips, salsa, and other finger foods.
Don't forget photo props! A fun way to keep guests entertained is with a homemade "photo booth." Just grab some small banjos, guitars, maracas and sombreros to create that Mexico feel. Provide cheap, disposable cameras for guests to take pictures on, and have them create copies of the prints for you to keep in a keepsake album.
It wouldn't be a fiesta without some lively music. Play tropical, Spanish style music to create a beachy, party environment.
Parties and celebrations are fun no matter what the occasion! Just remember to spice up the party with tasty foods, sweet beverages, entertaining music, games, and fun things to do. You'll be the best party host ever!