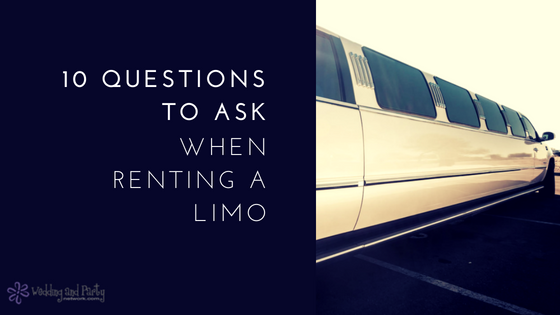 Certain events require an extra special arrival. But where do you start when you want to rent a limo for your next party? With the right questions, you'll get all the information you need to choose the best limousine company for you and your pals.
Do you cater your limo services to a specific kind of event or occasion?

Some limousine companies may prefer transporting the bridal party to the wedding rather than around town for the bachelorette party. Get a feel for the company and their style by asking them if they specialize in a specific kind of event transportation.

How much do your limo services cost?

This may seem obvious, but some companies will charge based on mileage, while others charge by the hour. It's important to find this out because one rate may be better than the other depending on your needs.

Do you have a minimum rental time?

This is important to know if you will only need transportation for a short amount of time. There is usually a one or two-hour minimum. This may be a time that paying mileage is more cost-effective than paying by the hour.

How many people can ride comfortably?

Companies will give an estimated number of passengers that their vehicles can carry. The high end of this number might mean being crammed in like sardines. When deciding what size limousine will be best for your party, ask them how many can fit comfortably.


When does my rental time begin?

Sometimes your rental time begins before you ever make it into the limo. For budget purposes, it will be very important for you to know if your rental time begins when the limo leaves its home garage or when they pick you up.

What does your company's insurance cover?

In the event of an accident, you need to know if you will be responsible for your own medical bills if you are injured or if the limo company's insurance will cover the cost. You'll also need to know if they will provide another means of transportation for your party if there is only minor damage but the vehicle isn't operable. Don't be afraid to ask to see a copy of their insurance prior to signing your contract. Safety first!

Are your drivers licensed chauffeurs?

There is a special license required for chauffers in many states in addition to a Class D license. If a driver will be operating a vehicle with more than 16 passengers, they are also required to have their CDL.


What do your drivers wear?

When you think of a limo driver, the picture of a gentleman in a black suit or tux often comes to mind. If a company is truly professional, their drivers will be nicely dressed opposed to showing up in cargo shorts and a t-shirt.

Can we set a specific route ahead of time?

You may have a certain destination in mind for your trip, but if there are any sites you'd like to see along the way, ask to set a specific route. The driver might be planning the fastest, most direct way to get to your location, rather than taking the scenic route.

What amenities do your limos have?

Snacks and drinks? A bar and TV? Make sure to ask what features each vehicle has and if the company includes drinks or snacks in their price. If they don't (or it's an outrageous price), ask them if you are allowed to bring your own!
From concerts to your wedding day, renting a limo is a fun experience and a great way to make any occasion feel special. As long as you ask the right questions, you are bound to have an epic time!