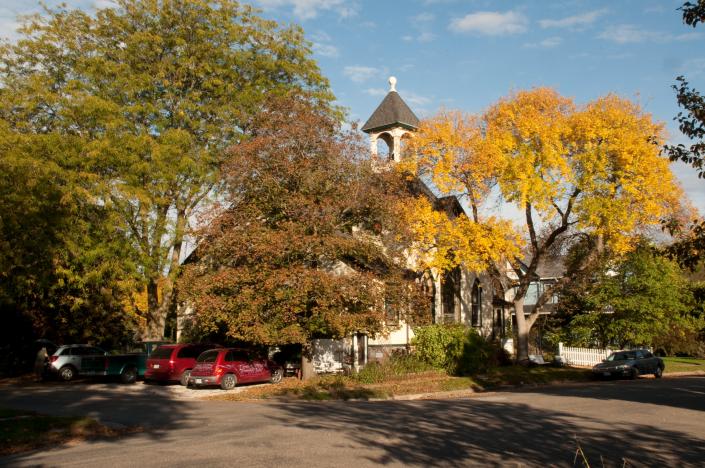 No decision has more influence on the outcome of your wedding day than the venue you choose. This is because a well-run venue will solve most of your wedding day problems before they ever have a chance to rear their ugly heads. There's no substitute for quality staff who can anticipate potential issues and nip them in the bud.
And yet, as any previous bride will tell you, the real deciding factor has to be the venue itself. Your wedding day should be full of wonder and magic, and that requires a magical location. If you're in the Dallas Center, Iowa area, you should visit the Candle Lit Way Wedding Chapel. Once you've seen its classic beauty, and met the wonderful staff, you'll know you've found the right place.
The Location of Your Dreams
There are few places as beautiful as Candle Lit Way. This Dallas Center treasure belongs on a postcard with it's high, soaring steeple rising above the well-manicured grounds and gorgeous stained glass windows providing a splash of color against the vintage white exterior. You'll be further entranced by the breathtakingly magnificent gardens filled with flowers and stately sentinels, perfect for a wedding ceremony or even a proposal.
And the interior is just as impressive! The elegant wood floors are polished to a mirror shine while classic crown molding adorns the walls and antique furnishings are spread throughout. The bride's room is not only luxurious and comfortable but also has impressive hand-painted accents embellish the top of the walls and ceiling.
Perfect for All Occasions

Candle Lit Way specializes in weddings, but they are available for any event. The reception area can hold up to 60 people so it is perfect for birthdays, corporate functions or any other party, and our chapel is the perfect location for Baptisms. If you prefer an outside event, our gardens make the perfect backdrop for any function.
Their staff is dedicated to making your event go as smoothly as possible while ensuring that you and your guests are well taken care of.
If you are looking for an amazing location to hold your wedding or event, contact Candle Lit Way Wedding Chapel!