Take a trip down South to Memphis, TN, for a dreamy wedding or party venue– Overton Chapel Celebration Hall!
Originally built in the 1960's as a church for the deaf, the chapel now serves as a space for wedding and parties. Charles Lawing and he partner Bobby Wampler transformed the building into a venue that fulfills any need to make any celebration story-book perfect.
Overton Chapel is ideal for large wedding as it seats up to 200 guests, with banquet tables available for up to 150 guests. The bride and her bridal party can prepare for the big day in a large dressing room that has easy access to the aisle that leads to "I do." A kitchen is even available for catering needs!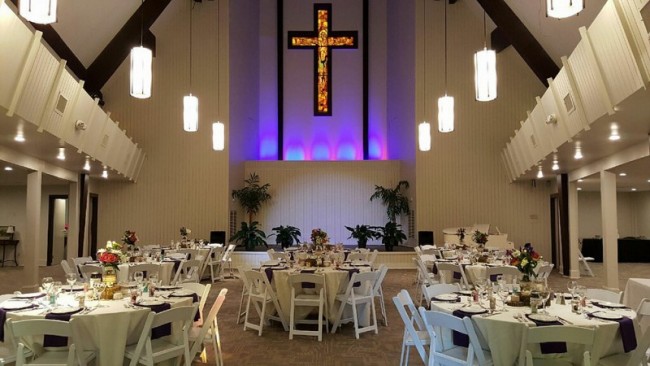 Beautiful soft white lights line the chapel walls and stained glass windows at the entrance allow natural light in for a colorful glow. For the reception, take a seat at one of the many banquet tables adorned in gold, with a perfect view of the chapel's stained glass cross window.
Whether wedding, gala, or simple celebration, Overton Chapel provides a videographer with high definition cameras that not only record, but stream online for those who can't be in attendance. A state of the art sound system and large stage for a DJ allow for the celebration to be taken up a notch.
Overton Chapel also works with several vendors for catering, floral and decor, entertainment and planning needs. Pizza for a low-key event, a single vocalist or even an orchestra are all available. Everything on the to-do list for wedding or party planning can easily be checked off thanks to these services!
Planning a celebration doesn't need to be stressful. Visit Overton Chapel Celebration Hall for a beautiful experience and fantastic service!