The Beginning
Wil and I met on the track team at Arkansas State University. With the prettiest brown eyes and kindness like no one else, I liked him from the start. Before we started dating I remember that he asked me to come along on a John Mayer concert two months before it even took place. I, not trying to get my hopes up, assumed we were just going as friends. When the concert came around we had been on dates and not soon after that concert we were dating. Now we've been together for almost 2.5 years and we've had a lot of fun along the way.
The Proposal
On the first weekend of spring break we had planned a small trip to Boone, North Carolina, to check out Appalachian State University since Wil had applied there for grad school. Well that and we wanted to go on a small vacation of course. So we drove up to Knoxville on a Friday and continued to Boone the following day.
Right before we got to Boone we stopped up in the Blue Ridge Mountains at an old farmhouse with connecting horse carriage gravel roads to do a run. After that we rode around Boone checking out the place and finally went to dinner. With that said, the day had been perfect to me. I had gotten to run, eat good food, explore a new place and all with Wil, could it get any better? Oh how wrong I was, of course it could.
We arrived at our cabin around 7 p.m. After dropping off our bags inside we decided to have a look around the campsite. Wil grabbed my so called "birthday card" and we walked outside. I knew this card was special in some way. He lost it on the drive to Boone so we had to stop and buy a new one so he could rewrite it.
We found a creek right behind our cabin and there he gave me the card. When I finished reading, already tearing up, he dropped down on one knee and you know the rest. Without a doubt I said yes, and thought dreams do come true. I had never been happier!
The Wedding
Exactly two weeks after the proposal we got married. We had a small ceremony with only 4 close friends and my mom and grandparents and his mom and grandpa. It was absolutely perfect!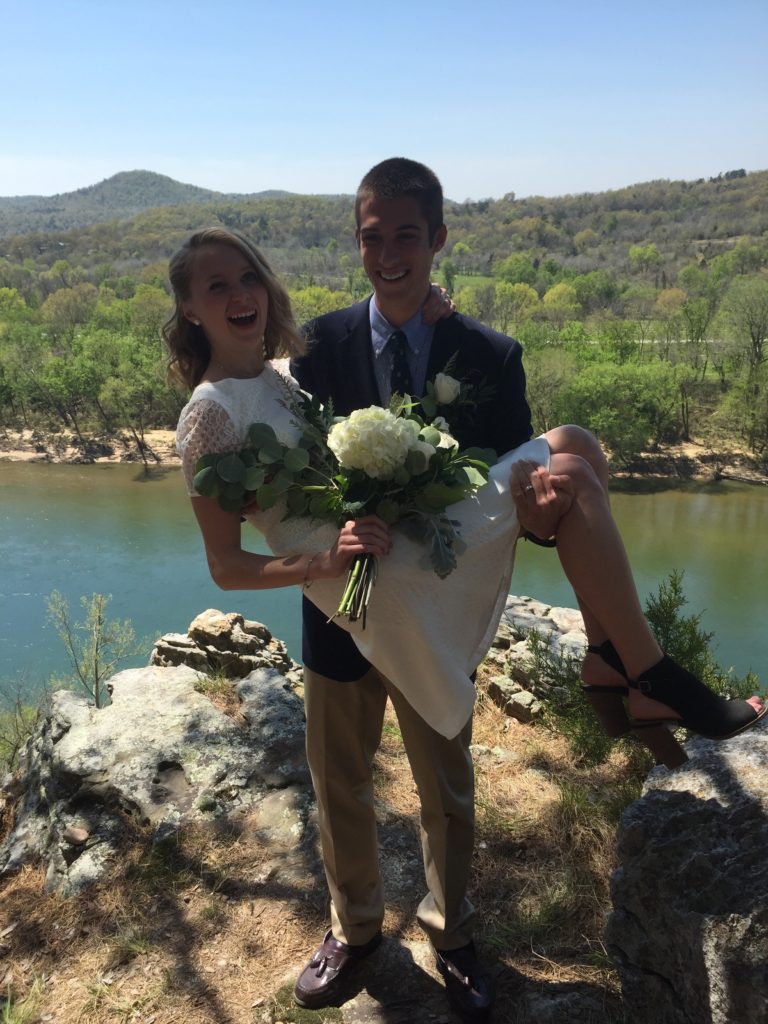 We got married up on a bluff looking over the White River on the outskirt of his grandpa's land outside of Mountain Home, AR. We got incredibly lucky with the weather with sunshine and gorgeous clear skies. It was a day we will never forget.
If you're looking for vendors for your wedding visit the Wedding and Party Network directory today!