Flowers are a huge part of your wedding day. They are seen throughout your wedding and tell the story of your day. So, having a florist that understands your style and is skillful is a must. This is where
Adcock Wedding & Event Florals
comes in. Located in Benton, LA, this florist offers creative floral designs and an understanding of each and every one of their brides.
Meet The Owner
Jemi Adcock began floral designing in her first shop at age 27. She strives to stay on top of trends and the market by attending continuing education seminars and conferences. With that knowledge, she offers a wide variety of designs and caters each wedding to what the bride envisions.
Nothing cookie cutter with her shop and she works to incorporate their vision and dreams into their wedding. There are no "packages" that are the same for every bride. After all, it is YOUR big day! She is also proud to say that she has even done a few second generation weddings for children of former brides!
Why Choose Adcock Wedding & Event Florals?
This florist will work with you in every possible way to make your dreams come to life. They do on-site meetings, as well as in-house, to get a feel for any new venues they may be going to. Also, another perk is that they work with a large number of local vendors, so they have contacts for most anything a bride might need. They know that a wedding is a once in a lifetime event, and it deserves to be treated with the utmost importance and skills.
From Your Bouquet To Your Reception Flowers...
They design it all. From your wedding bouquet, bridesmaids' bouquets, boutonnieres to your wedding ceremony & reception flowers, they create it. Whatever your wedding colors, theme and style, Adcock Wedding & Event Florals can't wait to design your dream flowers.
Beautiful baby's breath in galvanized tins at your wedding ceremony, ivory wedding bouquet or a purple cascading bridal bouquet all are stunning designs that this florist can create.
If you are needing a florist to design your wedding flowers,
Adcock Wedding & Event Florals
can't wait to make your vision come to life.
Flowers tell the story of any special event. The theme, wedding or party colors and style are all represented throughout your flowers. So, you want to find a florist who truly understands your vision and what you're going for within your special event or wedding. A florist who goes above and beyond to create your vision throughout your
wedding flowers and event flowers
is Adcock Wedding & Event Florals.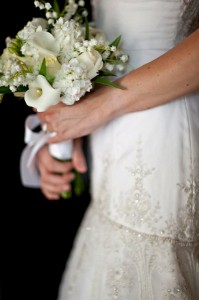 This
Benton, Louisiana
florist offers creative floral design specializing in weddings and special events. They always strive to create your vision while always keeping your budget in mind. No two brides are alike and they believe that each one deserves their own style depicted throughout their flowers.
You'll find that they're always committed and enthusiastic about what they do. Personal service and attention to detail are what they do. For your wedding or special event, days of meticulous planning, preparation and thought are invested into your special day. The results are personalized designs for your event reflecting your desires and visions.
Designing For Your Wedding
When it comes to your
wedding day flowers
, they understand that everything must be absolutely beautiful and represent you. They'll design it all, including your wedding bouquet, bridesmaid bouquets, boutonnieres, flower girl baskets & petals, wedding ceremony arrangements and wedding reception centerpieces. They even feature rental items.
Whether you are a traditional bride wanting an all white rose wedding bouquet or an exotic bride that wants a stand out exotic wedding bouquet; they'll design it all. Sit down with them from the beginning to explain exactly what you're wanting for your wedding, after that, they will take care of everything to create the wedding of your dreams.
More Than Just Weddings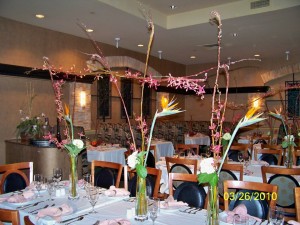 Not only do they design for weddings, they also design for special events. Whether you are wanting reception centerpieces for a themed charity event or wanting a birthday arrangement; they'll go above and beyond to create the arrangement of your dream. This florist always goes above and beyond at creating your visions. They truly want to show off your style through each flower.
When wanting to find a florist who will tell your story, choose
Adcock Wedding & Event Florals
Everything will be absolutely beautiful and just the way you envisioned it. With their skillful eye and attention to detail, your flowers will absolutely be stunning.
What creates color and sets the true tone of your event? Setting the tone, representing the season and showing off-color comes from flowers. You want guests to walk into your wedding or event and immediately get the sense of what the night will bring. Flowers do just this. So, if you are in the
Benton, Louisiana
area, Adcock Wedding & Event Florals
is the florist for you.

Exquisite Service
This florist is committed and enthusiastic in everything they do. Personal service and exquisite attention to detail is what they serve you. Always choosing the finest flowers and presenting them with freshness and quality is what Adcock Wedding & Event Florals
will do with your design.
Everything works together, texture, color, shapes and fragrances will all be a cohesive pairing. Most importantly, their floral design and your
wedding flowers
will represent you.
Planning Your Wedding
When planning your wedding, you will sit down with their expert florist and discuss your color palette, texture and the type of flowers you've imagined. You can also sit down and browse hundreds of photos for inspiration and see the beautiful work they've done in recent weddings.
You'll find them organized, efficient and will be able to develop a bond and trust with them.  They put days of meticulous planning, preparation and extensive thought are put into your day to make it truly magical. Your wedding flowers will reflect your desires and vision.
What colors would you like in your wedding bouquet? What shape would you like your wedding bouquet? These are a couple of questions that they will ask to make sure your bridal bouquet symbolizes love, happiness, hopes, represent your wedding style and matches your
wedding gown
. Whether you want a gorgeous purple wedding bouquet with nature inspired twists or a classic white wedding bouquet, they want to create your exact vision.
Along with wedding bouquets, your bridal party, ceremony, reception venue and wedding cake will all represent your wedding through flowers. Bridesmaids will have gorgeous bridesmaid bouquets, groomsmen will show off your wedding through their boutonnieres and your ceremony and reception will have amazing centerpieces.
When planning your special day, you deserve a florist who wants to give you the best. Well,
Adcock Wedding & Event Florals
do just that. THeir goal is to create the vision you've always dreamed of on your wedding day, and they'll meet it.