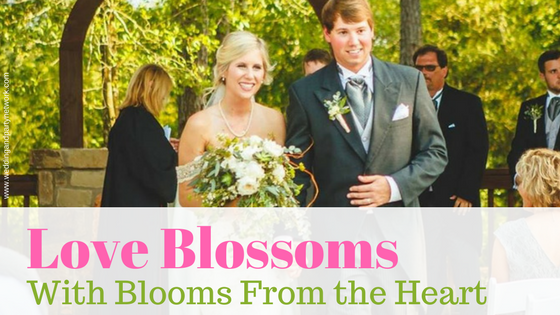 Long gone are the days we simply picked up long-stemmed roses for someone and called it a day. And thank goodness. A well-crafted bouquet is a delight to the recipient because it's not simply a bunch of generic flowers in a box. Yes, flowers can be personal. And why not?
When you have someone who takes flowers to heart, it's easy to see how they can be so determined to give you something that's just for you. Started in 2013, the owner of
Blooms From the Heart
began her shop that reaches out to Cypress and Northwest Houston after being in another field for 3 decades. It was a dream come true for owner and designer Lana King, a Certified Texas Master Florist who offers full-service in the floral industry, offering custom floral arrangements, and specializing in weddings.
That love for the business and the industry shows in every arrangement, every corsage, and every bouquet. Her work is considered "above and beyond," "wonderful," "unforgettably special," "impeccable," and "beyond expectations." Their work has garnered them "2016 Best Picks Community Favorite" with Houston Community Newspapers and the "Living Best of Reader's Choice" in 2015.
Lana earned the Texas Master Florist certification at the Benz School of Floral Design and Houston School of Floral Design. Lana's amazing personality makes her easy to work with. Between that and her artistic designs and willingness to go above expectations makes her an obvious choice. If you visit a flower market and see something you like, let her know. Show her the pins of bouquets for your wedding you found on Pinterest and watch her take them to a new level. While she's already the best deal in town, she will help you stay on point and under budget. Even if you don't know exactly what you want—she will help you! That's what we mean when we say flowers can be personal, especially on your wedding day. They are unique in creating custom and unique floral designs and are constantly learning new styles, techniques and products, passing on what they learn to their clients, offering them the newest, latest, and the best.
Of course, they offer the newest on-point trend— the unstructured wedding bouquet so many brides are asking for. They add a bit more color, depth, and height than what the bridesmaids will be carrying. That way, you match the wedding party but stand out a little, too. Each wedding is custom designed, so embrace your wedding theme, be it victorian garden party, holiday winter wonderland, traditional Celtic, or simply traditional or contemporary.
The shop also specializes in jewelry brooch bouquets and can custom design keepsake jewelry wristlets, corsages, and boutonnieres. They can add embellishments to your bouquet and the bouquet handle with accents like pearls, berries, butterflies, lace, feathers, or anything else you can dream up. They also provide consultations for parties and weddings, party decorating for homes and businesses, corporate event planning, and wedding and party rentals. So, after your wedding, you will want to stay in touch. She can take care of every event in your life, from new births, congratulations, Valentine's Day, birthdays, anniversaries, and prom.
To ensure your days are a beautiful, blooming success, start with
Blooms From the Heart
.
Make sure you remember your wedding day for years to come with a professional wedding photographer!