The cutting of the wedding cake has long been a focal point at receptions. Serving as dessert, decor, and a fun event all to itself, your wedding cake is a chance to show off your particular style and tastes. If you are in the
Ann Arbor
area, let
Gwen's Cake Decorating
create a mouth-watering confection you'll still be craving after your first anniversary.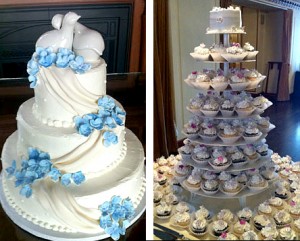 Make Your Special Day Delicious
It is one thing for a wedding cake to look beautiful and be a centerpiece at your reception, but it really does have to taste amazing. Not only are you sharing the first bite with your beloved, you are sharing this treat with all your guests. More so than any other food served, people always taste the wedding cake. Some consider it bad luck not to!
Selected by The Knot as Best of Weddings,
Gwen's Cake Decorating
delivers both the style you dream about in a moist full-textured cake with flavors so delectable you won't drop a crumb. Your guests will enjoy every bite!
Wedding Cake - So Many Options
Whipping up cakes that are baked fresh and never ever frozen, this busy baker has a dizzying array of cake flavors, fillings, and frostings that can be combined to create amazing flavors for your special day sweet tooth.
How does white amaretto cake with raspberry creme filling sound? Or German chocolate topped with Italian meringue butter crème? Maybe lemon poppyseed with fresh sliced strawberry filling? For a cake that is uniquely yours, mix and match until your heart's content. All your traditional favorites are available too.
For the frosting, cakes are frosted in a smooth non-crusting butter crème that is made from scratch and just the right amount of sweet.
Need a vegetarian or gluten free wedding cake? Maybe you love the trend of wedding cupcakes. Those options are all available and with personalized service Gwen's makes all your cake decisions a treat.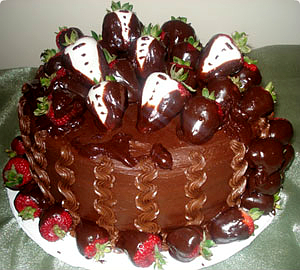 Home of the 10 Pound Chocolate Cake
You read that right! Gwen's bakes up true heaven with a round layer cake that is as decadent as it gets - a cake weighting in at 10 pounds of luscious chocolate! This would be a perfect groom's cake to compliment the stately white of a classic bride's cake. It is a complete crowd-pleaser for any special event.
Once you experience the look and the taste of
Gwen's Cake Decorating
, you'll go there for all your special occasions cake needs and won't leave hungry.