Quality, service, and attention to detail. It's what we want when we hire a caterer; however, actually finding it can be tricky. How do you know what you're really getting? A good idea is to start with a talented chef with a passion for food.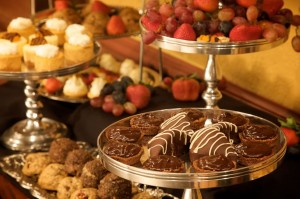 At
Just Rennie's Catering of Evansville, Indiana
, chef Doug Rennie left a job as an executive chef to pursue his dream alongside his wife of bringing high-end dining to the catering world. At
Just Rennie's Catering
, restaurant-quality dishes and mouth-watering desserts greet guests at a wide range of events, including
party and upscale wedding catering
. Why compromise when you need food on-the-go?  With
Just Rennie's Catering
, you can have unique, upscale catering at your wedding, party or special event.
For dinner, the Rennie's offers scrumptious black Angus beef tenderloin, seared Atlantic salmon, and chicken picatta with mushrooms and lemon sauce. And that's only the beginning! Wild mushrooms, rich sauces and beautiful ingredients bring fine dining to any location.
And then there are the desserts. In addition to their signature cookies,
Just Rennie's
offers spectacular desserts that can stand alone or accompany a fabulous meal provided by one of the best caterers in the business.  Chocolate-dipped truffles, cheesecake, and gourmet treats put
Just Rennie's
on the map!
Whether you need upscale catering or lunch on-the-go or would like to host a gathering in
Just Rennie's
beautiful Tuscan wine room, Doug and Marla have the highest quality food, made of the best ingredients, created with an expert touch. It's everything you need and more!
Just Rennie's
passion for service and food will show will in every bite!