We all know someone who went through it. One moment your friend, cousin or sister is all smiles talking excitedly about her wonderful wedding ideas. Next she is calling you crying because the venue is overbooked and her mother won't stop arguing with the caterer. Don't let this happen to you. You can avoid all the wedding crazies so easily. The solution? Have a destination wedding!
Romance Journeys
works with you to create an incredible experience in unforgettable locations like Mexico, Ireland, Tahiti, Caribbean and Jamaica.
Your Wedding. Your Rules.
Its your wedding which means it is your time. You get to decide how you want to say "I Do" so why not make it the most beautiful and romantic day possible?
Having a destination wedding or honeymoon is your ticket to the thrill and excitement of exotic locales with the only person you want to share the world with. And the best part, the ceremony can be simple and elegant with so little fuss.
You will be in a gorgeous place surrounded by beauty and luxury. All those little details you would have been stressing about at home go right out the window with blue skies, warm sand and the sound of the ocean.
Magical Destination Weddings
Elopement use to be the reason to get to married away from home but today couples can create a dream wedding that is a casual intimate occasion with or without guests.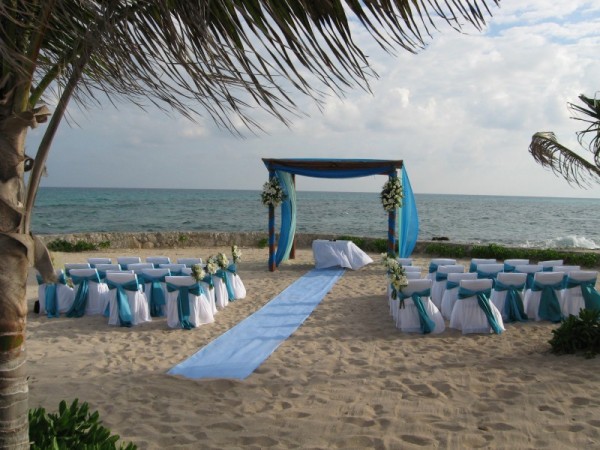 Destination weddings can be only for the couple or just a select group of friends and family. With enough guests, you could set up a family and friends reunion group that is more affordable for everyone that you might think.
With all-inclusive trips, travelers pay one up-front price then relax! Put your feet in the sand instead of becoming a Bridezilla back home.
A Honeymoon Where You Can Say "Alone At Last!"
Even if you don't get away for your wedding you have to break away for your honeymoon. This is the person you want to be with forever so start your journey the right way with some quiet time together.
Doesn't matter if you have been together for years or if you met two months ago on your train commute, this time with just the 2 of you enjoying the grander of the world will never be forgotten.
Make the rush of love and happiness last as long as possible when you are walking hand in hand in the surf.
Trust me, destination weddings and honeymoons in amazing places are not just for the rich and famous. You can escape the overwhelming headache of a hometown wedding and build a once-in-a-lifetime getaway.  You can dream big and
Romance Journeys
  will make it happen.