Seating is of utmost importance at any wedding or large event. Take the stress out of this party planning step and let
Tables Matter
take care of you!
Since 2007, Tables Matter has served the Greenwood, AR, area after owners Scott, Patty, and Nate Medlin had to borrow several tables for a yard sale.
"It was always a time-consuming hassle," they say.
After the yard sale, the family also had to worry about returning the tables. From this, they determined they would rather pay somebody to rent the tables, deliver and pick up after their event. Tables Matter was then born!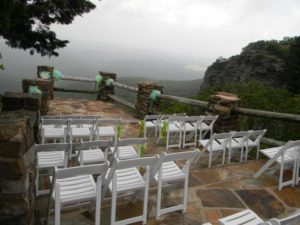 Today, Tables Matter specializes in weddings, receptions, parties and corporate events. The company has grown throughout Western Arkansas, Eastern Oklahoma, and the Arkansas River Valley.
For any occasion, Tables Matter has the tables, chairs, and linens to suit your needs. With free setup and takedown, there is no hassle in seating preparation! Inventory is always cleaned and well maintained, promising an elegant experience for your guests.
Quality linen can make or break a wedding. Tables Matter offers professionally dry cleaned tablecloths, runners, chair covers and sashes in practically any color. Whether your wedding is a spring event filled with lavender, pink or yellow, or an elegant party with ivory, plum or silver, Tables Matter has something to fit your style.
Choose from garden or heavy duty chairs, tables that seat up to 10 people, or even standing pub tables! Need a special area for your cake or unity candle ceremony? Tables Matter also offers antique wooden tables, silver cake tables, and even an antique pedal sewing machine table to decorate your venue with.
Tables Matter also offers other gorgeous décor to bring beauty to your wedding. Wash tubs, cake plateaus, podiums, garden arbors, and arches are all available to rent! Tables Matter is your one stop shop for wedding equipment. Rent not only your seating and tables, but decorative plants, aisle markers, wall hangings, bird cages, and columns! The Medlins can completely take care of your day from décor to drink dispensers and AstroTurf.
Tables Matter
is here to serve you on your special day, so go with the company who understands just how much tables and chairs really do matter!
Find all of your wedding vendors at Wedding and Party Network!