Volume 3 Issue 5
The weather is warm, the sun is shining down and it's time to get out of the house and plan an outdoor party. During this beautiful weather, who doesn't love getting out of the house and hosting a party with their friends and family? There are so many different parties that you can host with great decor and activities. However, you may think it may be a lot of work hosting several parties. It's not. Wedding and Party Network has a few tips and ideas for you to host a truly successful outdoor party.
Set up food and drink stations around the yard. This encourages your guests to walk around and mingle. You can set up a fruit buffet, appetizer table, lemonade, tea, drink station and you can even set up a non-alcoholic and alcohol drink station.

Have bug spray, sunscreen and maybe even some spray fans stationed at a table outdoors. Yes, with the warmer weather brings the heat and bugs. Therefore, offer them all the essentials that may need.

Serve healthy and simple snacks as well. Yes, you may have food to serve, however, it may not be as healthy. Therefore, offer up simple and healthy snacks in a basket so they can snack on those throughout the night.

Don't forget about the food covers. Of course, if you're hosting a party outdoors, bugs can be a problem. They are attracted to the food and no one wants bugs on their food. Therefore, use mesh food covers. You can find them almost anywhere and some places even have them in unique and fun designs.

A great addition to any party is some sort of tent or a designated spot for kids to play. You can set up some toys, books, coloring station or even set up a television to keep them occupied throughout the night. They'll really enjoy this.

Skip out on the standard paper towels, plates and utensils. Use cute little tea towels and mix and match colorful plates. This makes your party a bit more "green".

Feature a tub of warm, soapy water or a station of wet wipes set up for people to wash their hands in. This is great for the adults when they are ready to eat or just feel kinda yucky after all the sunscreen and bug spray. Plus, it's also great for the children, since they are a bit more prone to get a little dirty.

Prepare as much food as you can in advance. You don't want to run around all morning and during the party trying to prepare all the food you need. However, you can also

hire a caterer

if you would like to, they have a variety of recipes. If you plan on cooking the food yourself, make a list of what can be prepared early and how early. A lot of dishes you can prepare two days before and they'll last until the party, they may even be better since you're letting the flavors mix better.
When planning your outdoor party, keep in mind these tips. It will truly make your party run more efficiently and once you prepare these items, you'll have them for the next one. So, get party ready with these helpful tips.
If you are planning an outdoor party, let Wedding and Party Network help!
Tips For Your Next BBQ
The warm weather is upon us, flowers are blooming and the sun is beaming down. This can only mean wonderful weather for all your outdoor parties. This is the time to get outdoors and get creative with your backyard and host some amazing BBQs.
Read more about Tips For Your Next BBQ
Is Your Backyard Party Ready?
It's that time of year again. The weather is beautiful and it's time to get out of the house. Now is the ideal time to host all those wonderful outdoor parties with close family and friends. However, is your yard party ready? Since you've been indoors during the winter months, your yard may not be ready.
Read more about Getting Your Backyard Party Ready

Tips For Hosting A Successful Party
Whether your party is for a birthday, graduation or celebration you can turn your fantasy party into a reality with these helpful tips. You can throw an impressive party without breaking the bank. Here are some tips for keeping your party affordable.
Read more about Tips For Hosting A Successful Party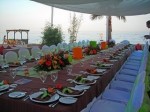 Hosting A Garden Party
It's the beautiful warm summer days and cool summer evenings that make it a perfect time to host a great garden party. Whether you are hosting a laid back casual picnic or a more formal affair, a garden party is a great way to bring friends and family together for a day of fun in the sun. Read more About Hosting A Garden Party

Kentucky Derby Viewing Party
It's that time of the year again! Everyone is ready to make their bets and pick their favorite horses. However, you may not be able to make it to the actual Kentucky Derby. Therefore, a viewing party is in order during this weekend. Read more about A Kentucky Derby Viewing Party

Host A Festive Cinco De Mayo
With so many wonderful events & holidays coming up, we can't forget about Cinco De Mayo, which is on May 5th. This is a wonderful time to host a themed party. There are so many great ideas to put into this party. Plus, this is just an all around great party theme to host.
Read more about Hosting A Cinco De Mayo Party



Create Your Dream Flowers With A Perfect Bloom Florist & Interior

It's all in the details when you plan a wedding or special event. The details are what tells the story of your event. Therefore, they truly must be spectacular. When looking for vendors, you want a vendor that truly understands you and captures your business.

Cupcakes From The Cupcakery Are A Must
When planning a special event, you want special items that will set the tone of your event and create a look that no one has ever seen before. You create your look with all the little details that go into a special event, party or wedding.
Read more about The Cupcakery
Create A Memorable Moment With Fragrant Acres' Butterfly Farm
When it comes to planning a wedding, you want it to stand out. You want your wedding to not compare to anyone else's. Therefore, you look for unique details that give meaning to your wedding and adds a unique detail. One thing that comes to mind is a butterfly release. These are absolutely gorgeous and truly have a special meaning behind them.
Read more about Fragrant Acres' Butterfly Farm

Outdoor Party (Sunshine Flowers), Three Tier Display Of Food (Culinary Productions), Outdoor Floral Arrangement (Flowers Plus), Parasols (Luna Bazaar), Balloon Arch (CR Flower & Gifts ~ A Bracebridge Florist), Balloon Party Decor (Barry's Flower Shop Inc.)

For more vendors in your area, visit Wedding And Party Network for all of your wedding and party planning needs!