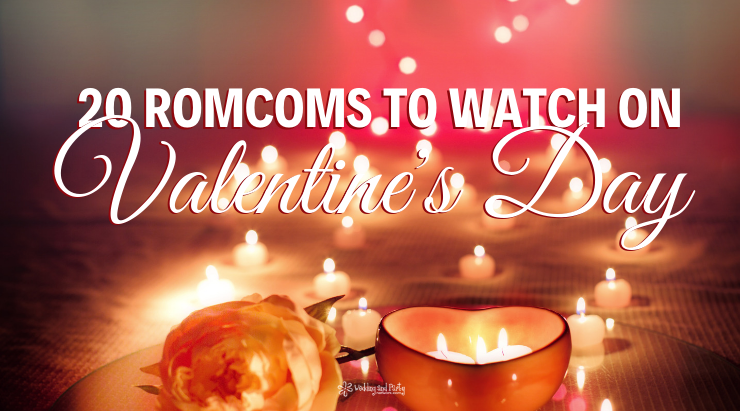 Valentine's Day is right around the corner, and that means it's the perfect time to host a movie marathon party! If you are a lover of love like me, then you already have a list of romcoms and romantic movies that you plan to binge on Valentine's Day. However, if you have no idea what to watch, don't worry, I have a list of some of my faves for you to view with your friends or significant other! Just don't forget to buy the popcorn, chocolate, and wine for the party!
1. When Harry Met Sally
This movie is a classic romcom movie that features stars like Billy Crystal, Meg Ryan, and the late Carrie Fisher! It'll have you saying, "I'll have what she's having," by the end of the film.
2. Crazy Rich Asians
If you are living in 2019 and haven't seen this amazing movie, then you are missing out on a fantastic film! This movie made headlines because it is the first major motion picture produced in America that features an all Asian cast.
3. To All The Boy I've Loved Before
Have you ever had a crush on someone so bad that the only way to let it go was to write a letter to them? Well, Laura Jean does. Find out what happens when the letters get out on this amazing Netflix original film!
4. Girls Trip
There hasn't been an all-female entourage comedy movie since Bridesmaid. This cast features stars like Queen Latifah, Jada Pinkett Smith, Regina Hall, and rising star Tiffany Haddish! You'll be on the floor laughing from all the experiences these women have.
5. The Wedding Planner
The first rule of being a wedding planner, don't fall in love with the groom. Well, what happens if you didn't know you were about to plan a wedding for the guy that saves your life and goes on a movie date with you? That's what the wedding planner, Mary, has to figure out.
6. My Best Friend's Wedding
Have you ever been in love with your best friend? I have. Luckily, I've never had to e a bridesmaid in my best guy friend's wedding and try to break it up. See what happens when Julia Roberts' Julianne tries to win back her best guy friend, Michael portrayed by the handsome Dermot Mulroney.
7. Pretty in Pink
Take a trip back to the 80s, when John Hughes was writing some amazing 80s classics that we all love. Molly Ringwald stars in this film as Andie, a girl who marches to her own drum along with her best friend Duckie. Watch as Andie navigates high school and falling for the popular guy!
8. Breakfast at Tiffany's
See Truman Capote's novel come to life with Audrey Hepburn as its star! This tale is a classic boy meets girl, boy falls for girl and eventually finds out girl has an interesting past. So what will they do? Watch and find out!
9. Clueless
As if! You could not watch this one and not envy Cher's fashion closet! This movie is a modern-day telling of Jane Austen's novel, Emma. All the things you loved about the 90s are in this very movie!
10. My Big Fat Greek Wedding
When you hit your30s, your family can sometimes worry about you never finding love. That's the case for Toula. She's been working for her father's restaurant for as long as she can remember, but when she starts working for her aunt's travel agent, she runs into Ian. And, that when things get real Greek!
11. Sweet Home Alabama
Ever ask anyone why they want to marry you? Well, that's what Melanie asks Jake when they are kids, and Jake has the perfect answer, "So, I can kiss ya anytime I want." And, isn't that just the sweetest? However, things aren't so sweet when they get older, and Melanie is living in New York City, and Jake is in small-town Alabama.
12. You've Got Mail
One of Nora Ephron's famous movies starring Meg Ryan and Tom Hanks. This takes us back to when everyone was chatting online via AOL and it's famous, "You've got mail," would notify you when you had a new message. Find out what happens when "Shopgirl" and "NY152" meet in real life.
13. The Proposal
Romcom queen Sandra Bullock's Margaret Tate is facing deportation back to Canada. That is until she gets the bright idea to propose (yes, marriage proposal) to her assistant, Andrew Paxton played by Ryan Reynolds. She has it all figured out, but first, she has to meet the family. And, things get a little hairy when Margaret actually starts to fall for Andrew and his family.
14. Letters to Juliet
Just like kids write letters to Santa, did you know people write letters to Juliet? Well, they do! And, the Secretaries of Juliet reply. True story. This movie takes you on a fictional journey of what happens when a journalist replies to an old letter a lady wrote to Juliet years ago.
15. His Girl Friday
Not all of us have to go back and work with an ex, but see what happens when Walter Burns (Cary Grant) finds out his ex-wife, Hildy Johnson (Rosalind Russell) is engaged. Not only does he try to win her back. He does so by enticing her with a news story she would find exciting versus the dull domestic life she is about to enter into.
16. 13 Going On 30
Are you ready to feel, "thirty, flirty, and thriving?" Well, even if you don't this movie is a great movie to see what happens when 13-year-old Jenna wishes to be 30 years old. Does she have everything she wished for as a 30-year-old or does she wish to start all over?
17. How to Lose a Guy In 10 Days
Could you win a bet to lose a guy in 10 days? Well, if the guy is played by Matthew McConaughey, it's gonna be pretty tough! See Andie and Ben try to outsmart each other as their friends have made two different bets about their abilities to lose a guy verses to keep a girl.
18. Grease
Have you had a summer romance so wonderful that you hated to see it end? Well, that's what happens to Sandy and Danny until they find out that they now go to the same school! However, the Danny that Sandy knew during the summer is a totally different person at school. See if their romance can last and they are the one they want.
19. Dirty Dancing
Patrick Swayze. Need I say more? This is one of the most memorable romance movies that people love. Enjoy this summer romance where Baby a.k.a Frances helps Johnny and his dance mates through the summer. Along the way, there's a spark that begins to form between Baby and Johnny, and at the end, you'll be trying to do the moves and remember, "Nobody puts Baby in the corner."
20. Set It Up
This was the beginning of Netflix's start to bringing romcoms back. Good romcoms that is. Two assistants wish they ad more time to do their own thing, but their bosses are always working which means they are working too. So they hatch a kind of Parent Trap plan. Just don't dick around and be sure to watch this movie!
Granted, I could list out more movies, but that would be a LONG list. So, get some good food and drinks together, invite your friends or sweetheart, and plan the perfect Valentine's Day movie night!
Don't forget to send invitations out before the party!