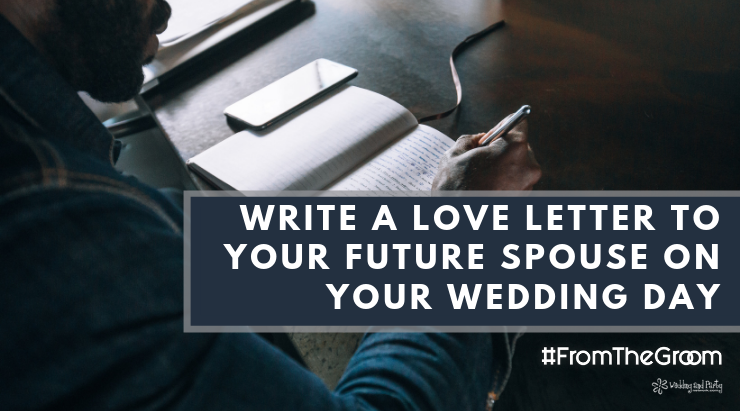 Social media and other forms of media have made the art of letter writing almost an ancient skill. No longer do people write down their feelings and thoughts in long, beautiful letters to their lovers. If it's not 240 characters or less, most people find it difficult to dictate what they are truly feeling. Think about Shakespeare. He is one the most famous writers who knew how to tell someone in eloquent language how he felt about them – "Shall I compare thee to a summer's day? Thou art more lovely and more temperate."
So, there's no better way to tell your future spouse how excited you are to spend the rest of your life with them, than by writing a well thought out letter. Surprise them on your wedding day before they walk down the aisle. It will be a gesture they will never forget! Not sure how to start? No worries. We've got tips just for you!
1. Find some nice stationery
Sure, you could just write on typical notebook paper, but that wouldn't be very special. You can find a place that has gorgeous stationery or paper to write your letter on. By doing this, you show that you have put thought into making this memorable. It also allows them to frame your letter later to last forever.
2. Find a quiet place
We have so many distractions in our world. Back in the day, they didn't have so many distractions when they wrote their letters. They were able to really think about what they wanted to tell their sweetheart.
3. Write from the heart
This is the time to be really mushy and cheesy. And, the best part is that it's a private letter to your sweetheart. If you need some inspiration, think about some the romantic songs that have been written in the past. For example, The Beatles have some wonderful songs about how they feel. Their song Somthing is so swoon-worthy. "Something in the way she moves/ Attracts me like no other lover."
4. The why matters a lot
Why do you love them? There are so many things about this person that made you want to spend the rest of your life with them. If you don't want to go into so many details, then make a list. You can even end the list by saying, "If I had to list out all the resons why I love, the world would run out of paper."
5. Past, Present, and Future
Tell them why you fell for them or the first time you knew you loved them. Then talk about the wedding day. How wonderful it is to commemorate your forever with them. Lastly, talk about your future with them. How you can't wait to spend the rest of your life with the.
Your letter doesn't have to be Shakespeare, but with these tips, you will have no trouble being able to express to your future spouse how excited you are to spend the rest of your life with them.
Find nice stationery here: