Recently I got to celebrate my son's first birthday. Being just one-year-old, he's not quite able to voice preferred theme ideas for his party, so we went with something pretty universal and characteristic for a warmer-weather birthday bash. We picked baseball, and I'm so glad that we did. More specifically, we stayed in the red and white category and utilized everything from borrowed baseballs to old Coca-Cola glass bottles. It was fun, and I want to share how we pulled it off!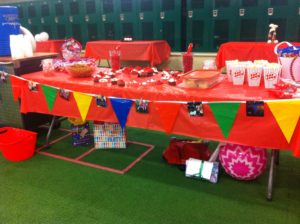 Make it a Joint Affair
Probably the best decision I made when planning this party was to combine it with some friends of ours whose little boy was born three days after ours. To share all the details that come with trying to pull off a halfway decent party is so nice. It was my friend's idea, and as soon as she suggested it I was sold. We were able to split costs on food and decorations, PLUS we could use both of our connections to borrow a lot of things that ended up being staples at the party–like our tables, centerpieces, and most importantly our venue!
Be Flexible
When rain pulled the plug on our initial plans of having it on a baseball field, we used a local high school field house (for free!) that ended up being the most ideal location possible. It was indoor, but still roomy enough for kids to run around and be crazy for a little while. My favorite thing about it, other than the intense sporty feel of the place, was that it was a perfect indoor playing ground for the kids. Having it indoors brought to mind how chaotic the party may have been on a huge baseball field. The kids were more contained, yet were in a location where they didn't feel contained. When I was dreaming up this party I envisioned a baseball diamond, but having to re-think it provided us with more insight on how to improve the flow of the party.
Choose Two Colors
We decided to stick with red and white for almost everything we contributed to the party's visual. Even the food was mostly red and white. It made it pop and actually made it easier to shop for essentials. I had a few clear vases that I filled with red candies to add a little flair to the food table. We borrowed baseballs from friends that we sat around as decoration. We had only a few long tables that we placed around benches for seating and they had red (disposable!!!) tablecloths on them.
The Coca-Cola bottles I mentioned were borrowed as well and were clear with red and white writing on them. We used them as one of the table centerpieces filled with white daisies. Not EVERYTHING was red or white, but for the most part we tried to stick with those colors so that the baseball theme would really stand out. You can choose the colors of your favorite baseball team, as well!
The Food
Our party was right after lunch, so we just provided snacks. Like I mentioned, we scattered clear vases with red candy in them around the food table. That was easy decoration, plus, it was another food option for our guests.
Any party's biggest food contribution is always the cake. We decided on cupcakes after looking online and finding a cute and easy way to ice cupcakes so that they looked like baseballs. We iced the top layer with white and then used red icing for the baseball stitches. It was super easy, just a little time-consuming.
We devoted an entire afternoon to our cupcakes. Our party was fairly small, so we ended up making about 50 cupcakes and we probably could have used more. I recommend coming up with a rough estimate of people you are expecting and doubling that number when you're deciding how many cupcakes to prepare. You can always let people take some home.
Instead of making individual cakes for the birthday boys to eat, we made two oversized cupcakes iced like baseballs. Neither one of us owned an oversized cupcake pan (I don't know anyone who does) so we improvised and baked them in a 2-cup, glass measuring cup. It worked out perfectly despite some apprehension on both of our parts! We also had small bags of peanuts and cracker jacks for people to munch on at the party or take home with them as favors. My friend also made up a big batch of popcorn that we filled red and white bags with. A side note: When having to transport a large amount of popcorn, dump it all in a clean trash bag. I thought that was very resourceful!
The main purpose for any little kid's birthday party is to keep it light and fun for them. Choose a theme that reflects something they like and do your best with what you have to offer. Kids (especially babies) love parties no matter the frills, so represent your theme well and let them chow down on some cake!