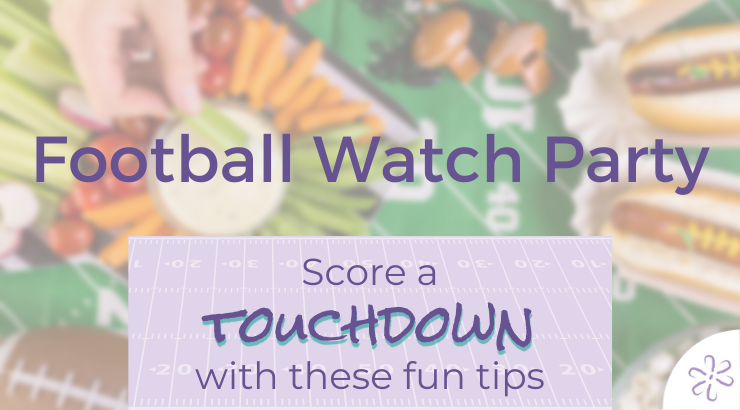 Football season is in full swing, and what better way to celebrate than with a watch party? The best part about a football watch party is you don't even have to be a fan of the game to enjoy the party! To be completely honest, we prefer the food anyway.
Party Prep
Run your play before the game to throw the super bowl of all football parties! If you're a big football fan, you'll likely want to have everything prepared ahead of time so you can stay focused on the game. The amount of prep you do depends on you, but here are some things you might not think of when it comes time to execute your game plan:
Dust your TV to avoid unsightly glare

Buy disposable plates and utensils

Test your TV and sound system before the game starts

Make a seat for everyone (even benchwarmers need a place to rest!)

Plan your menu ahead of time

Make dishes that don't require a lot of attention

Plan seating so that everyone has a good view

Keep entertainment options for less avid football watchers
These are all suggestions of course, but can be really beneficial in hosting a smooth party!
Food Inspo
By and large, food is probably the most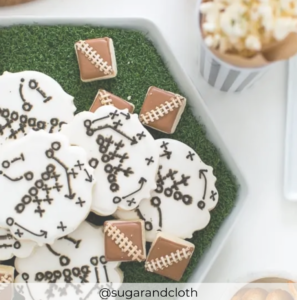 important aspect of a football watch party next to the booze. There's a lot you can do with a crockpot and oven to make some yummy treats that score touchdowns with everyone. You probably already know that finger foods and dips are the way to go, but that doesn't mean you can't get creative with them! Check out these twists on classic foods that make them easy for halftime consumption.
Cheesy meatball sliders

Football cake pops

Mac and cheese bites

Pulled pork ring

Walking tacos

Chicken and waffle sliders

Pigs in a blanket

4-way dip

Tater tot skewers
Decor
Football watch party decor is pretty simple. Just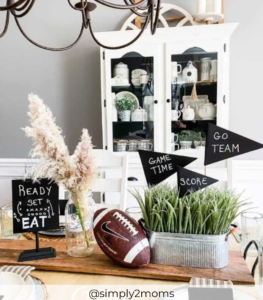 grab some football-themed items and put them wherever you want. However, you can kick it up a notch if you're looking to wow the neighbors. Try a backyard tailgate and bring the game day experience right to your home! It's an easy way to get outdoors and set up a ton of games to entertain guests before the game or during halftime. Go all out supporting your favorite team by decorating with their colors or logo! They'll be able to feel your team spirit from miles away.
A football watch party is a perfect way to celebrate football Sunday. Regardless of the outcome of the game, most people will leave satisfied after some good food and good times! So huddle up, it's time to party.