Summer is coming to an end and that fall breeze is so close we can taste it! It's the season of pumpkin spice and spooks, and with all those holidays right around the corner party season is in full swing. Bonfires, football parties, and potlucks will never go out of style, but we've got some fall party inspo to keep your get-togethers fun and fresh.
Don't get us wrong, we are always down for a potluck (it's soup season after all), but we'll never get tired of the thrill that is picking your favorite pumpkin at the pumpkin patch. We wouldn't turn down a fall festival either! This year, we highly encourage you to bring the patch home with you. Make use of all those pumpkins you picked up and make your own festival right in your backyard!

Decor
A staple fall decor item is, you guessed it, pumpkins. When in doubt, grab those gourds and go to town. They can be real or fake, but either way you can't go wrong with adding pumpkins to your fall decor. You can easily transform them to match your home or party aesthetic by painting them or buying ones in different colors! Deep earth shades of green and brown have been trending for fall decor this year, and that beautiful pumpkin orange is the perfect accent color to spice up your neutrals. If you're not into pumpkin decor (why?), that's no problem. Try a more subtle approach with leaves in yellow and orange shades. They're great additions for those of you who like the clean, natural decor trends. You can use them to make all types of decor, but some popular options are garland and wreaths.
Activities
What's a trip to the pumpkin patch without activities? The fall season usually calls for pumpkin carving or bobbing for apples, but there are tons of other activities you can try this season. Wear the little ones out with a relay race! A candy corn relay is sure to be a hit—especially if you give them the candy corn after. Line everyone up with a spoon full of candy corn at the starting line with an empty bowl at the finish line. Everyone must get their spoon of candy corn to the empty bowl without dropping any. Trust us, it's harder than it looks! You could give all the saved candy corn (not the ones on the ground) to the winner or divide it up evenly! Either way, this race is sure to be a blast.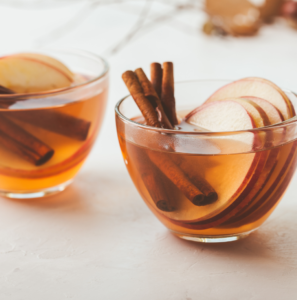 The adults need some fun too, and a fall-themed cocktail contest is a perfect way to do that! You can dish out prizes at the end, but to us, the cocktail is the prize. Feel free to not even bother with the contest if you want, we really just wanted an excuse to drink cocktails! But if you're up for a little friendly competition you can't go wrong with this one.
Food
Fall food is the best food. We don't make the rules. You can definitely get really creative with food options but sometimes traditional is the way to go. It's soup season—make some chili! Take this as an opportunity to have ANOTHER contest and feed everyone with little to no effort. Set up a candied apple station, let everyone top it with their favorite treats, and you have another fun activity for the kids. Fall festival foods are always a hit, so no matter what you choose you're sure to leave everyone with smiling faces and full bellies.
Fall is one of the best times for throwing a party because there are so many ways you can be creative with the season's themes. Just pick your overall concept and run with it. As always, we say do whatever feels like fun for you! Happy fall, ya'll!