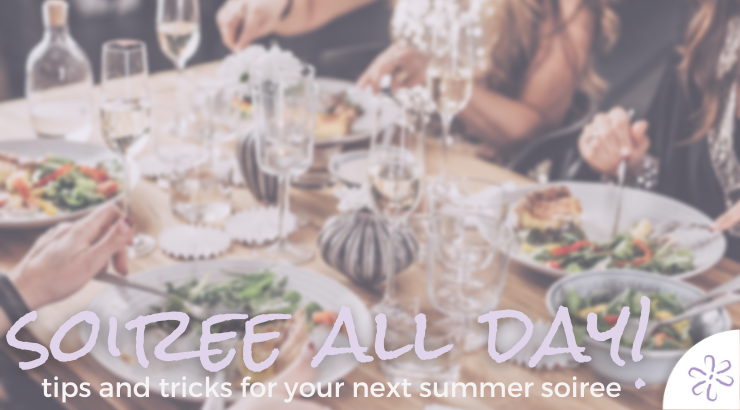 Summer is in full swing, and what better way to celebrate than with a party? While a cookout or a pool party is always an option, there's something about a warm summer night that really sets the tone for a soiree. If you're looking to impress your guests, you're in luck! We've picked out some of our favorite tips and tricks to help make your summer soiree a night to remember.
Keep It Exclusive
A soiree isn't just any kind of party, bestie. They're usually an intimate gathering of your favorite people, focusing on good conversation and quality time. So you'll want to keep the guest list small, we'd suggest inviting no more than 8 people. This just helps keep conversation with the group easy, and you don't have to talk over each other all night.
Keep It Classy
We love a themed party as much as the next guy, but you'll want to reign it in a little for a soiree. These are typically a more elegant affair, giving everyone an excuse to show up and show out! Rather than going full on "garden party" or "roaring 20s," we'd suggest keeping it simple and focusing on the ambiance. Soft lighting, dinner party music, and the "good" plates are all you really need for this shindig! If you feel the need for a little more decor, fresh floral arrangements and candles are always a great touch. You can also send out actual invitations, and put out place cards at the dinner table. As far as your wardrobe is concerned, you'll want to pull out your fave formalwear for the occasion!
Keep It Fun
We mentioned that a soiree really focuses on conversation and quality time with your guests, but there are still a few things you can do to make your party even more fun! Number one, make sure to have some good conversation starters handy! The conversation can truly be anything you'd like, but if you're looking for a true soiree feel then you'll want to look for more in-depth topics.
Keep It Simple
In our opinion, it's not a real party unless there's food! A soiree is a fancy affair, but don't think you have to spend an arm and a leg on a full course meal and champagne. Offering signature drinks for the night is a classy way to add something memorable to your soiree, and it also helps keep the drink budget a little smaller. When it comes to the food itself, we'd suggest serving small plates or a family-style meal. Both of these dining styles encourage a more relaxed, social atmosphere so it really boils down to your preference. With small plates there's more room for variety, but a family-style meal might be less time consuming depending on what you choose to serve. No matter what it is, unless you're very confident in your cooking abilities we suggest you stick with something you've made before!
When it comes down to it, a soiree is truly just a fancy dinner party with your favorite people. Don't stress too much about throwing the best party! Just keep it simple, and enjoy good conversation in good company.