Spring is here, the sun is shining (hopefully), and we're ready to kick that seasonal depression in the ass.
It's probably scientifically proven that sunshine helps manage depression. It's also proven that getting dressed up with your friends and drinking cures it. Please note, we are not medical professionals, but if you put all of that together it sounds like a really good excuse to day drink. Supposedly, day drinking isn't always socially acceptable, so we are going to dish out some tea party themes that you can steal to disguise your day drinking. Stay classy besties.
Disco Daydream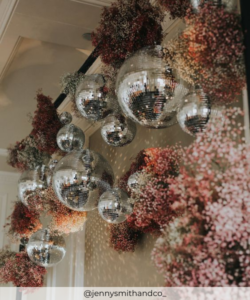 You did it. You planned an awesome tea party and you are about five cups of "tea" deep when your best friend from college wants to dance. Since you're a great friend, you had the foresight to plan a 70's disco tea party that makes dancing completely appropriate. A disco-themed tea party might sound a little cliche, but we all know how trends come back around. If 70's disco isn't your taste (wrong), you can do this with any decade or genre of music. All it takes is a daydream and the right decor!
Downton Abbey
While Downton Abbey may no longer be airing,

you can still bring it to your backyard.
This is a great excuse to get dressed
up in the fancy clothes you never wear
This tea party theme is all about class and is a great option if you're wanting to keep everything a little more low-key with some fun activities. Make a Downton Abbey trivia game or have a costume contest. The more accurate the better! Historical wear has been a big trend lately and what better period to cosplay in than the roaring 20's.
Bookclub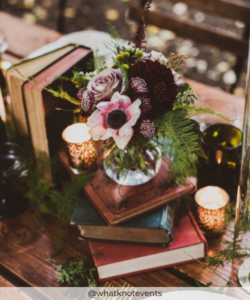 The dark academia aesthetic is a Pinterest daydream. This is a great theme if you are wanting to take a lot of photos, be a little more serious, or elevate your monthly book club meeting. The vibes are a little moodier than your woodland fairy theme, but can still be just as magical! It can also be a great opportunity to pick up a steamy book to talk about. We can't think of a better afternoon than discussing spicy literature and drinking tea with your squad.
Fit for a Queen
When in doubt, take it back to the roots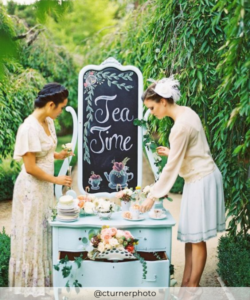 with a traditional British High Tea.
Tea parties can be as extravagant or laid back as you want. You can still dress up in traditional tea party attire and have an excuse to plan a get-together. This theme is also great for spring because it typically shows off a lot of pastels and florals. It's easy to incorporate unique touches into this theme so just have fun with it!
At the end of the day, this is all just an excuse to get together and have a sophisticated rager. So don't think about it too hard and remember the best times are the ones when you made questionable decisions with your friends. We hope these tips help and remember, pinkies out!