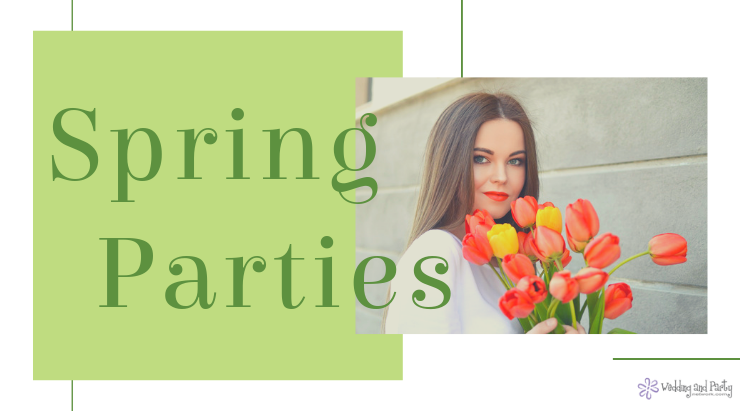 Say goodbye to winter and hello to spring! It's time to welcome warmer weather and beautiful blooms. Why not celebrate the occasion with one of these spring themed parties? We have some great ones for you to check out and get inspiration!
Bohemian Bash
Kick off the new season with a bohemian bash. Set the mood with acoustic music and pitch a few tents with floor pillows and crochet blankets for your guests. Decorate with twinkle lights, feathers, dream catchers, and floral wreaths. For activities consider having a build your own flower crown station, life-size Jenga, bean bag toss, and horseshoes! Serve your guests fruit trays, cheese and grape platters, lemonade and tea.
via GIPHY
Fairy Festivities
Get creative with this theme and invite your guests to come dressed as their favorite fairy character. Have little tea light candles, LOTS of glitter, and paper lanterns. You could even hire a facepaint artist and include a create your own wand station for everyone to enjoy. Order a naked cake and serve cupcakes decorated like mushrooms. If you're preparing food yourself, use butterfly and fairy shaped cut-outs for the food and serve them on wooden platters and drinks in china teacups!
via GIPHY
Garden Party
Host an elegant brunch where you can enjoy conversations with your friends and family. Tulips and daisies are a must for decorations, as well as burlap, lace, and over-sized tablecloths. Have some fun with a tea time bingo! You can find free printouts online. Have a picnic set with mini sandwiches, fruit, and vegetables. For drinks, you can't go wrong with sangrias, mimosas, wine spritzers, and mint juleps.
via GIPHY
Enjoy the spring season by hosting a great event with one of these great themes! Need a baker for the party?