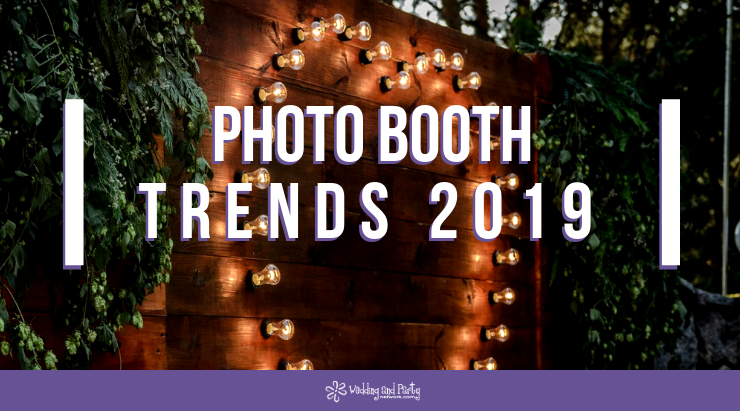 It's no longer just up to the wedding photographer to capture perfect memories of the big day. Guests are taking the job into their own hands as well and providing wonderful, candid shots that will last a lifetime. Whether using a professional photographer or not for the candids, this style of wedding photography is being made even easier with these fun photo booth ideas!

The best part about a DIY photo booth is how customizable it can get. Instead of a solid colored background for photos, spice it up with some texture! Garlands of greenery or flowers make for a chic booth, and string lights or glitter curtains can bring a whimsical touch to a wedding. Backdrops don't have to be made of curtains either: group together large plants, balloons, art pieces or even haystacks.
Photo booth props on sticks are a timeless way to have fun at any wedding, but take it up a notch this year with wearable items! Oversized glasses, hats, feather boas or other silly pieces of clothing will keep guests returning for more photos all night long. Guests can have a way to customize it on their own chalkboards, whiteboards, or other signs to write on. For a classy booth, vintage furniture or empty photo frames are another fun way to get everybody involved!

It's easy to set up a photo booth and designate a period of the evening for a hired photographer to run the show, but allowing guests complete control is sure to bring about some of the best photos of the event. Set up a table, have guests use their own phones, or allocate a number of disposable cameras for use. Consider setting up a printing station too for instant gratification!
No matter the wedding theme, or if guests take their own photos or a professional does it, having a photo booth will bring a spark of creativity and a personal touch to this big day of celebration!
Want to have a real photo booth there?