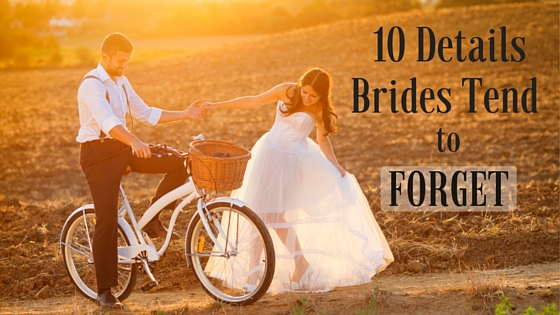 Planning a wedding is a daunting task and minor details can easily slip through the cracks. Avoid any emergencies on your wedding day by reading through this list of details that brides tend to forget.
1. Bring the legal documents
This is the most important part to make your wedding official! Research the application process for a marriage license long before your wedding date. Sometimes a blood test and other documentation is required. Gather this information early so that after your ceremony you are ready to go!
2. Select a transportation manager
Rallying your bridal party together to get them from point A to point B can be a difficult task. Ask someone you know with good leadership skills to make sure that everyone is where they are supposed to be.
3. Bring the chargers
A phone charger seems like an easy item to remember but is often forgotten. Create a short checklist of items to grab from your room to throw in your overnight bag or purse before you walk out the door.
4. Pick someone to take home your things
Most wedding day planning ends after the last dance at the reception. There are several item though like your guest book, leftover food and decorations that have to be cleaned up and taken home. Ask your immediate family or a small group of friends to grab these items for you as they leave.
5. Hair and makeup touch-up kit
Most beauty appointments begin around lunchtime. This means that there could still be 5-6 hours before your wedding ceremony even begins. Pack a small hair and makeup bag with only the essentials and give it to your maid of honor. You'll be thankful you have your lipstick after you eat dinner at the reception!
6. Confirming with vendors
As your wedding day approaches it's important to confirm the arrival time and venue location with all of your vendors. It's also a good idea to give them a copy of your wedding day timeline so they have an itinerary as well.
7. Hire a "day-of" coordinator
A bride should not be worried about the caterers arriving on time for her big day. Hiring a wedding 'day-of' coordinator will take the stress off your shoulders. They will ensure that your wedding day timeline goes smoothly.
8. Pack an overnight bag
Remember to pack an overnight bag for your wedding night to avoid digging through your large honeymoon suite case. Include everything you'll need and want like a lingerie, makeup, chargers, toiletries and a change of clothes and shoes for the next day.
9. Reserve seats at the ceremony for family and special guests.
If you want your immediate family to sit on the first few rows at your ceremony make sure to reserve this section with a special sign. Otherwise, no one you actually intended to sit there will be in the seats when you walk down the aisle.
10. Ask someone to be on dress and tux duty
You are not going to want to bring your wedding dress and tuxedo to the honeymoon with you, which means it will need to be left wherever you stay at on your wedding night. Ask someone you really trust to take your formal wear home for you.
They key to a stress-free day is delegation! Surround yourself with a great entourage that is capable of managing small tasks and everything will run smoothly!
Are you still looking for vendors for your wedding or maybe a wedding coordinator? Type in your zip code in our Wedding & Party Network Directory to browse through local vendors that fit your budget!