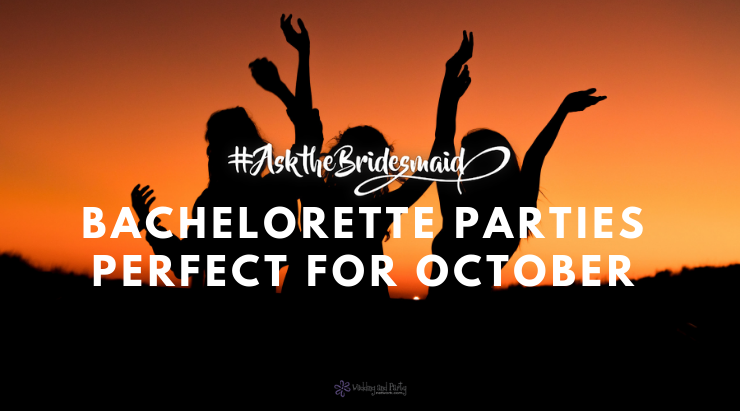 Bachelorette girls
If you are a MOH (maid of honor) or bride who is planning a bachelorette party in the month of October, we have some fall-tastic ideas for you! There are so many more ideas that you can go with than your typical Las Vegas kind of party. Here are some that we love:
1. Football Party
If you're the MOH and you know that the bride is a huge football fan, then this would be the perfect time to plan a trip to see her team play! Make sure you plan ahead of time to give the bridesmaids a chance to purchase their tickets. You might be able to get a group rate if there is enough of you. You'll need to plan your other activities around the game. If you plan far enough ahead, then you can get matching shirts with the team's logo on it. Get your cheer on and have a fun time!
2. Pumpkin Party
Call all your basic girls for this party! There's nothing that says "fall" more than pumpkin EVERYTHING! You can start the night off by carving or decorating wedding pumpkins. Have the bride judge who's pumpkin looks the best. Be sure you have plenty of pumpkin spice lattes ready on hand to keep the party going. If you really want to step up your game, book a photographer to take professional photos of the bridal group at Starbucks with pumpkin spice lattes!
3. Halloween
This is guaranteed to bring happy faces to the party! Have everyone dress up and go out on the town. Now, if you really want to make it fun, have a theme for everyone to dress up as and go out as a complete group. Hit up your favorite restaurant or bar for a fun night.
4. Pick a Cause
Maybe there is a cause that is close to your bride's heart. For example, October is Breast Cancer Awareness Month. Everyone in the bridal party could sign up, dress the same, and participate in their local Race For A Cure. This is always a great way to not only celebrate your bride but also give to a good cause. You can run the race in the day and then go out that night for some more fun!
Whether you choose one or all of these to plan a bachelorette party, the most important thing to remember is that this is for the bride. Keep it light and fun and you will have a grand time!
Ready to plan the party?