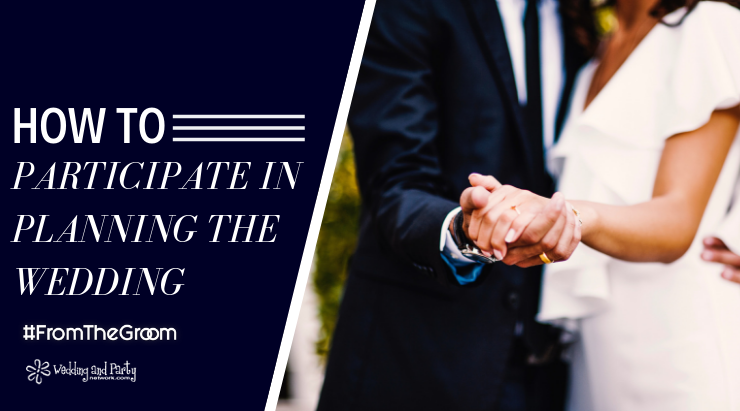 It's often said the wedding day is all about the bride, but don't forget about the groom! Planning a wedding takes two and while a groom might be willing to hand it all of to his future spouse, involving him is the surest way to make things go smoothly. 
Choices, Choices
Some details like the wedding dress or bridesmaids are definitely up to the bride, but there are so many ways for the groom to contribute his style and preferences. The big place to start is with his choice of groomsmen. If the bride has full control of her bridesmaids, it only makes sense for the groom to choose exactly who he wishes to stand next to him as he says his vows.
The Colors
Choosing a color scheme is also one of the first steps in planning a wedding. Sometimes a groom's suit might match this scheme; at the very least, small details such as his tie or corsage will follow the colors. It's very important for him to be part of the color process as everybody has specific colors that they feel best in!
Who Does What?
After these big decisions are finalized, start splitting up responsibilities! Does the groom have a talent for planning parties? Let him have a hand in putting together the reception. Is he an expert on wine and food pairings? See what kind of menu he can create for the dinner. If he has great taste in music, he can add songs to playlists for the ceremony all the way up to the exit song.
Make A List
It's also important to sit down and make a list of things each partner might not care much about. The bride might not have an interest in what the dinner napkins look like. The groom could have no opinion at all on the colors of the linens. Knowing what he wants to be hands off with can cut out plenty of stress and prevent potential arguments in the future.
Brides don't have to feel the weight of the world as they plan their wedding alone. It's easy for the groom to stay involved from day one and have just as much fun!