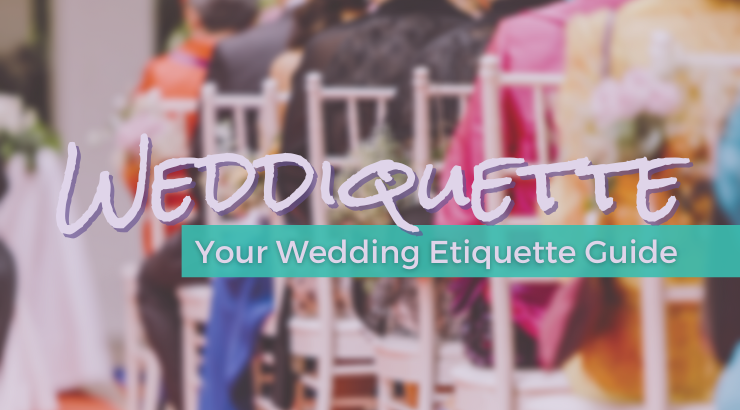 A wedding is an exciting celebration, but it can also feel easily overwhelming for everyone involved, especially if you don't know what to expect! From the happy couple to the guests, there are traditional wedding "rules" everyone seems to just know. While the couple getting married can ultimately pick and choose what rules they want established, it's good to know the basic expectations so you aren't going in blind. We've picked out the most common rules of wedding etiquette to help you prep for your next "I do!"
For the Couple
We all know it's your big day, so what you want goes! However, there are certain unwritten rules that you'll be expected to follow. 
While it is your big day, a traditional wedding and reception are really just a party that you are hosting. That means you need to be mindful of your guests! Offer some form of food and drink, even if it's just a cheese plate and punch. Your guests are taking at least a few hours from their day to celebrate with you, so don't leave them hungry (that goes for your vendors too!) You also need to try and say hi to everyone. We don't expect you to have a heart-to-heart with each guest, but a quick "thanks for coming" on your way to the bar can go a long way.
When it comes to the invitations, give plenty of time for your guests to respond, and be clear about the plus one rule, attire, and any other important details. If you don't want kids at your wedding, now is the time to mention that! As far as your registry is concerned, be considerate of how much people are able to spend on a gift. Include gift options in a variety of ranges or offer a honeymoon fund as an alternative. We are also pro thank you cards here, so make sure you send those out in a timely manner! 
As far as your wedding party is concerned, these are the people most heavily involved in your wedding! There are certain things bridesmaids and groomsmen typically pay for themselves, but you should always be clear about what you expect them to foot the bill on. Be understanding if your expectations are more than they can afford! You also need to be considerate of anyone who may decline the honor of being in the wedding party. Take their opinions for what they'll be wearing the day of to heart. Don't put your besties in something unflattering just because you want them all to match. If you want hair and makeup done professionally, consider paying this for them. It's always a nice gesture to give a small gift to everyone the day of as a thank you as well! 
For Everyone Else
If you're not the bride or groom, you fall into the "everyone else" category! Most of the rules of etiquette here are common sense, but we've never heard of a wedding where at least one of these wasn't ignored.
RSVP on time! You typically get an invitation a couple months in advance of the actual wedding day. That gives you plenty of time to respond by the RSVP deadline. Not only does this give the couple a headcount, it can save them money on food, favors, and more. If you're wondering, your "regretfully decline" is just as important as someone else's "accept with pleasure," so no matter your answer, just respond! 
Gifts can be a touchy subject, especially in recent years. However, etiquette dictates guests should send some form of gift to the couple they're celebrating. This doesn't mean you need to get the most expensive thing on the registry! Most wedding registries have a variety of price ranges to choose from, and nobody will ever be mad at a card with some cash. We do suggest if the couple has a registry that you don't stray from it unless it is a monetary gift. 
On the day of the wedding, make sure you follow the dress code provided! If one isn't specified and you aren't sure, cocktail attire is always a safe bet! Unless the couple asks, don't wear white to the wedding. Your arrival time is also important, anything earlier than 30 minutes is usually too soon. You also don't want to arrive too late and be the person standing awkwardly while the procession takes place! If you can't make it 10 minutes before the scheduled start time, just go to the reception. If you are able to make it for the ceremony, put your phone away and on silent. The couple have likely paid a ton of money for a photographer to capture their day, just let them take care of it! 
Wedding etiquette isn't hard! All you really need to remember is to be considerate of others, and enjoy the celebration!