You got hitched, you had your honeymoon, and now you're enjoying married life with your new life partner. The big stuff is out of the way, but the final wedding details are still to come! It's time to sort through those wedding gifts and get to that big stack of thank-you cards. It can be hard to convey all that gratitude into a tiny little card, but don't sweat it, bestie. We got you!
Thank you cards can usually be broken down into three essential parts: Say thank you, name the gift, and say something about the gift. Don't overthink these, and stay true to how you feel about it (unless you hate the gift—then maybe don't)! The cards don't have to be overly elaborate with fluffy words or long paragraphs. After all, these should be handwritten, so save your hand and don't make it complicated.
Writing Tips
Start them ASAP
Starting your thank you cards after your wedding can be a daunting task. If you choose to do them all at once, you might consider working on them in batches. But something you can do to avoid burnout is to write them as you receive your gifts. This is a great way to ensure you don't forget a gift! The feeling of receiving the gift is also fresh on your mind, so writing the card may come easier to you. The sooner you can get them done and mailed, the easier your life will be!
Get organized
If you choose not to follow the above tip,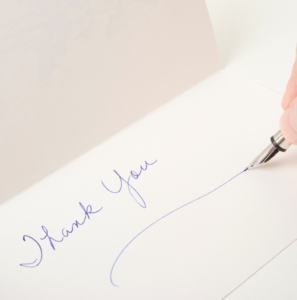 we won't hold it against you! But staying organized is key to this task. You might consider making a list with all the gifts you've received, who they're from, when it was received, and what amount of money is enclosed if any. You can do this in a spreadsheet or with pen and paper— whatever method works best for you! This just makes it easier to keep track of all the love you're getting. Be sure to keep a system and be methodical about taking notes. Write them down as you open them, not later! Tearing through your gifts is fun and exciting, but you'll be happy you took your time when it comes to writing your thank you cards.
Understand Etiquette
Your thank you cards should be personal and specific. You want to make sure the gift giver knows you are appreciative of their gift. A simple way to do this is by handwriting your cards rather than printing them. Even if you can't quite remember what they gifted you, and you didn't write it down, a handwritten note goes a long way. Mass printing and signing a generic thank you don't have the same special touch!
If you can't say something nice, don't say it at all" is an obvious rule of thumb here too. Sometimes, people just don't follow your registry and you wind up with a really weird piece of art you never asked for. The best thing to do is keep your thank you sweet and simple when you don't love your gift! Something like, "We appreciate you for celebrating us with such a thoughtful gift" can be used in literally any situation. When it comes to cash gifts, it's best not to put specific numbers into your thank yous. Lines like "Thank you for your contribution to our honeymoon," or "We can't wait to use this to buy -insert something here-" are great ways to let them know what that money will be used for and make it a little more personal.
The biggest tip we can give when it comes to thank you cards is to not overthink it! It's easy to feel like what you write might not seem appreciative enough, but at the end of the day all that matters is you took the time to acknowledge that person's gift and time. Just keep them to the point and use whatever synonyms for "thank you" you find in your thesaurus. We promise nobody will be mad at you for not writing an essay! Happy writing!