One of the most popular holidays in the U.S. is right around the corner- the 4th of July. It's a time for food, fellowship, and, everyone's favorite, fireworks.
Americans across the country will be hosting cookouts and watching firework displays timed to patriotic music to ring in Independence Day. So what do you need to make sure your 4th of July party blows everyone else out of the water? We'll tell you a few of our favorite ideas!
Food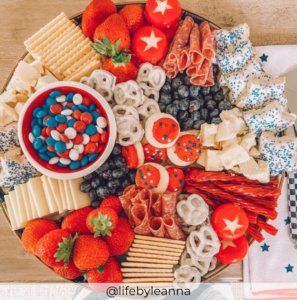 Arguably the most important part of any holiday celebration is the food involved. Especially for the 4th of July. When we think of freedom, our first thought is that hotdog fresh off the grill after a day at the lake. Or that rack of ribs that's been on the smoker all afternoon at the cookout. Americans love to eat, and we especially love to eat food during holidays. One way to make your 4th of July party stand out from the rest is with themed foods. Try incorporating red, white, and blue or stars as much as possible! Plates and napkins, desserts, drinks, and even using food coloring on some things is a fun and easy way to show just how proud you are to be an American. While the main dishes will likely be the typical cookout style we all know and love, you're sure to impress your guests by going all-in on the star-spangled celebration. A few simple ideas we recommend are the traditional flag cake, fruits or charcuterie boards with stars and stripes themes, or a red, white, and blue drink (booze optional!)
Fun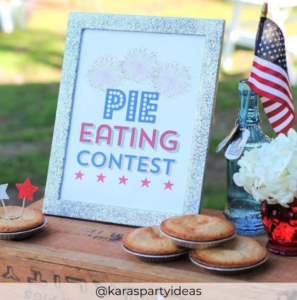 The whole point of a party is to have fun with your friends and family. While taking time to talk and catch up is part of that, you need to have more activities planned to ensure your party is the one everyone talks about for years to come. What better holiday to enjoy outdoor games than the 4th of July? While horseshoes and cornhole are staples to any successful cookout, you could also offer some themed games to add an extra flair of freedom. Are you and your friends big history buffs? Try a game of American history trivia. Hide small flags around the yard for the kids to hunt, Easter egg style. Host a pie or watermelon eating contest. Even taking traditional games like water balloon fights or ring toss and giving them a patriotic color scheme is a fun way to add to the celebration!
Festivities
While most people end their 4th of July festivities with a fireworks display, that isn't always an option. Some cities prevent people from having certain fireworks, and let's be honest; they can be expensive! So if you can't give a pretty light show or if you want to offer more, we've got a few ideas! Have the kids decorate their bikes or dress up for a patriotic parade. You could also have adults decorate their vehicles to take around the block if you're having a block party. Offer a fun DIY project like a tie-dye station or a holiday decoration project. DIY wreaths or ribbon banners are easy and affordable options! For the kids, you could have coloring sheets or a 4th of July-themed sensory station available. And to capture the memories everyone makes at the best 4th of July party of the year, set up a photo backdrop for pictures! 
Remember, there's not really a wrong way to throw a party. These are just a few ideas to give your freedom celebration an extra patriotic punch for your guests to remember! Now, go out and enjoy your three-day weekend! (We know we will!)