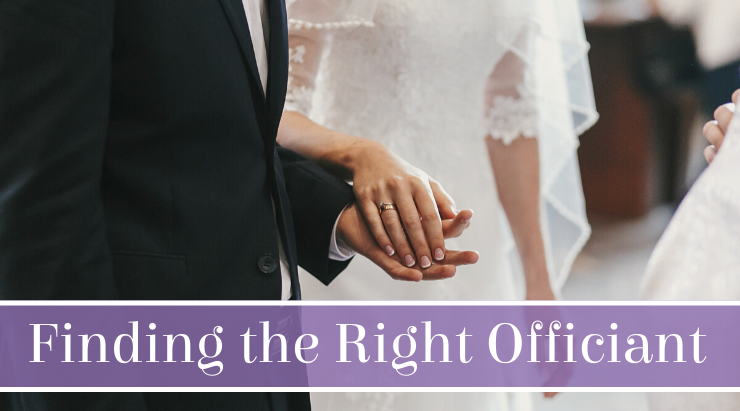 Deciding on the right wedding officiant can be a difficult process, but it doesn't have to be. There are several things you should consider doing that will help the process go a lot smoother. You have so much to plan for and arrange, so make finding your officiant as easy as possible. Here are a few ideas that will help you select the perfect one!
---
What Are You Comfortable With?
It's important that you and your soon-to-be spouse sit down and discuss what you're each looking for in a wedding officiant. Is your ceremony going to be traditional or a little more unconventional? Will it be a religious or spiritual ceremony? These are just a few questions you should ask each other before searching for an officiant. You want to make sure you're both on the same page and come to a mutual agreement on what kind of wedding officiant you both feel comfortable with.
Communication Is Key
While you're searching and meeting with officiants, make sure you are clear to each one about what your expectations are for the ceremony. You can convey the type of language, readings, and rituals you would like on the big day. Not everyone will be able to provide you with exactly what you're looking for, so keep your options open!
It's All In The Details
Once you've selected an officiant, it's important that you make sure they are qualified to sign your wedding license. Every state is different—some require the officiant to be registered with the City Clerk's Office, while others do not. Check your state's requirements so you're fully prepared and have a wonderful and legal ceremony. Lastly, you need to make sure you have everything in writing. It's crucial that you have a clear agreement on paper with your officiant so you both know exactly what to expect. While some officiants may not always work with a contract or officiating agreement, you can always ask for one, or you can keep all of the emails where you both have discussed what's to be expected.
Your wedding ceremony should be everything you've ever dreamed of and more. Finding the right officiant is a big part of making that happen, so start looking today!
---
Ready to find a local officiant?