If you walk into
Jessica's Bridal and Formal
, you will walk out with the wedding dress of your dreams. It's that simple. With over 5,000 square feet of shopping, how could you not?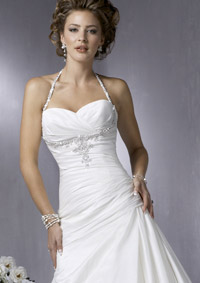 Jessica's Bridal and Formal of Bay, Arkansas
, offers excellent customer service to make your shopping experience everything you hoped for. Whether you have been dreaming about this day since you were a little girl, or you only want to spend one day shopping, Jessica's Bridal knows how to make a bride happy!
With a powerhouse like Jessica's Bridal, it's not wonder that so many excited brides-to-be turn to the talented staff to make them look gorgeous. At
Jessica's Bridal and Formal
, you will never feel pressured, rushed or pushed into buying a dress. Here, the shopping experience is about
you.
And we can't forget your friends and family, either! Jessica's Bridal provides, t
uxedos, bridesmaid dresses, and accessories
! You can arrive with your bridal party and leave prepared for the wedding!
For more than 20 years,
Jessica's Bridal and Forma
l has been making every bride look her very best. It doesn't matter if you're having a small town wedding or an urban affair, Jessica's offers the best bridal gowns for every occasion. Brides travel hundreds of miles to see the selection and quality Jessica's has to offer. Few bridal shops offer such an immense and stunning collection to match every budget, shape, and style.
Stop searching for your dream wedding dress and let Jessica's bring it to you! With so much to offer and the passion to deliver each and every time, why place your dreams in the hands of anyone else! Visit
Jessica's Bridal and Formal
today!