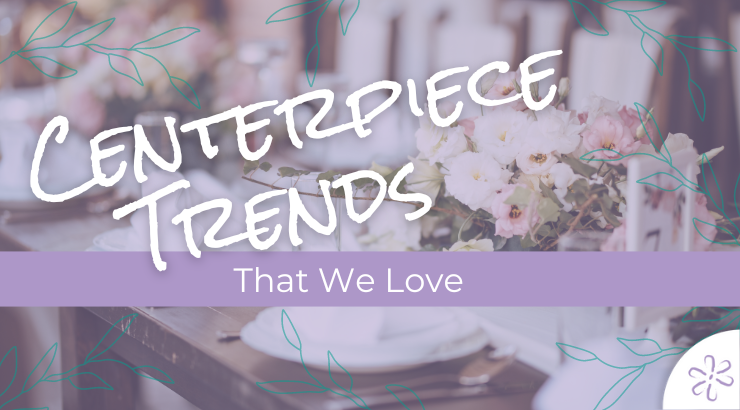 Planning a wedding comes with a lot of attention to detail. Flowers, food, décor– it can all get very overwhelming very quickly. While we can't help you set everything up (not directly at least. We do have a list of vendors who can though!) we CAN give you some inspiration to help narrow down those wedding details.
Today we're looking at centerpieces! You know, those beautiful arrangements of flowers and décor that help emphasize the theme or feel of your wedding celebration. Like many aspects of the wedding industry, centerpieces have seen quite a few changes over the years. We've gathered up some of our favorite trends and styles for the 2022/2023 season in one convenient place, to help you narrow your Pinterest scrolling to maybe just one hour a day (we know how important time management is, bestie!)
Hanging Arrangements
If your goal is for your reception to look straight out of your favorite fairytale, this is how you do it. Lush floral arrangements hanging from the ceiling, with flowers and greenery cascading down to create the perfect romantic setting (descriptive, we know.) These arrangements are great for the fairytale bride, the cottagecore bride, or even a boho or modern bride. You can make these arrangements as grand or as simple as you'd like, with a full table-length arrangement or just a statement floral chandelier. You can even add in other décor like candles or crystals to give it a little something extra. Pair this with a simple tablescape of candles or pictures, or go all out with more flower arrangements to match. 
Sustainable Practices 
Sustainable wedding practices have gained a lot of traction the past few years (as they should), and that eco-friendly effort doesn't have to stop with your centerpieces! Obviously, locally sourcing your flowers and décor is a key step to successful sustainability, but there are several other ways to incorporate sustainability. Instead of cut flowers, use potted plants that can double as a favor for your guests. Dried flowers are not only very trendy right now, but they're also a more sustainable option as they can last for years compared to fresh flowers. If you can't part with the idea of fresh cut flowers, let guests make their own arrangements with them to take home at the end of the night! For other décor items in your centerpieces, make an effort to choose pieces you can reuse. Candles, vases, and picture frames can all be used again, or gifted to guests as favors. 
Eclectic Tables 
For a more unique approach, you might want to try mismatching your centerpieces. Thrifted items like vases,  candles, pictures, and trinkets are easy ways to personalize each table but keep everything cohesive. You can choose a collection of smaller items arranged differently at each table (think different sized candles or bud vases with different flowers) or you can have one large floral arrangement that differs from table to table. The tricky part with mismatching your tables is making sure they aren't too different! You should stick to your general theme and color scheme as much as possible. Try only changing a few aspects of your centerpieces, and make sure it all makes sense when it's put together. 
Personal Touches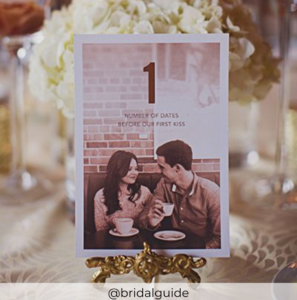 If there's one trend we hope to see continue, it's personalized everything. We aren't talking about monograms and the bride and groom's name on everything. We mean the idea of the decorations and theme telling the happy couple's story, and sharing it with their guests! You can continue that trend with your centerpieces. Favorite flowers can be used in the arrangements. Favorite scents can be incorporated through candles burning on the tables. You can also incorporate favorites like pets or hobbies into your centerpieces! Love reading? Use some of your favorite books in your décor. Use pictures of your pets or your favorite teams as place cards. If you love to travel, use pictures or souvenirs from your favorite trips on your tables. There is no limit to the ways you can personalize your wedding, and guests love getting to know more about you as they spend the night celebrating.
There are so many ways you can use centerpieces in your wedding reception, and these are only a few of our favorite trends! At the end of the day, it's up to what you like and how much you want to spend on the décor (you could even go with no centerpieces, we won't judge!) Let us know if any of these trends inspire you, and show us what you did for your big day in the comments!