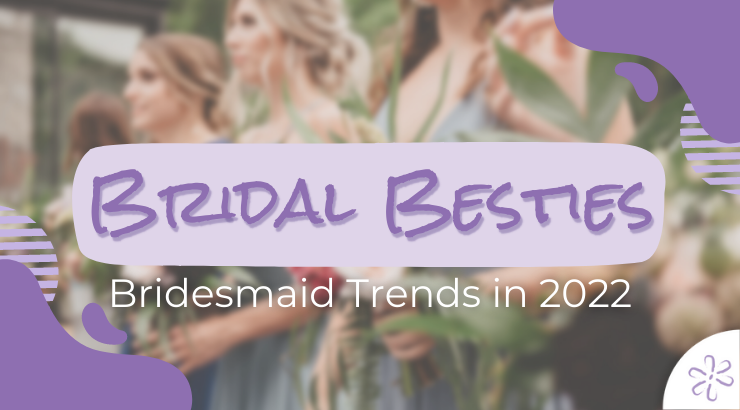 Happy National Best Friends Day! As a part of the Wedding and Party Network crew, you of course are one of our besties. Since we're besties, we want to make sure you have the wedding of your dreams. So we're back with more tips and tricks to do just that!
Making sure the squad looks good is arguably just as important as any other aspect of your wedding. Not only are they special people who deserve to feel their best, but they're also going to be standing at the front of the aisle with you when you say your "I do's". Dressing your gal pals (or guy pals) to the nines is essential. Not sure where to start? We've got the 411.
Mix and Match
Mismatched bridesmaids is the hottest trend in bridal party looks in the past year. This one is the perfect way to ensure that your entire party looks good and feels good. The most popular option for this trend is letting the bridesmaids pick their dress style, but remaining in the same color. If you've got a really diverse party, choosing this option ensures each bridesmaid is completely ready to tackle the day with you with no issues. You can also put everyone in different dresses, and have them in different colors as well. This is a creative way to incorporate all of your wedding colors while letting each bridesmaid stand out on their own. Want to match more than you want to mix? No worries. You can still showcase all of those beautiful colors while keeping them in the same style. The possibilities are endless!
Black Tie Affair
Quite frankly, there is nothing like a little black dress (or suit). It's chic, it's bold, it's HOT. Make a statement and put your bridal party in all black. Trust us, the pictures are going to look amazing. You can never go wrong with black, especially if you have a mixed-gendered bridal party. Black suits are incredibly sleek and black dresses are timeless. Your bridal party will thank you for putting them in something that they can wear time and time again. Most of all, you are really going to stand out if you choose to wear white. The contrast between you and your bridal party is going to be elegant and showstopping! No matter the style or theme of your wedding, putting your bridal party in all black will be a choice you won't regret.
Anything Goes
This one is for all of our low-maintenance brides out there. We get it, wedding planning is hard. If you've gotten to the stage where it's time to dress your bridal party but you've had enough, this option might be the one for you. Anything Goes is exactly what it sounds like. This trend lets everyone wear what they want, how they want. Set some specifications if you need to, such as color preferences or style, but otherwise, let them go wild! Your bridal party will be able to show off their personalities to the max. This one is great for mixed-gendered bridal parties as well. Have the wedding everyone will talk about for years to come with this unique and charming trend.
Now go out there and build a banger bridal party! You'll get some amazing photos if you choose to use these trends, or go outside the norm in your own way. The classic all-matching look definitely has its place, but your bridal party is as unique as you are. Don't be scared to show that off! You're sure to have the most beautiful wedding with your most beautiful bridal besties.