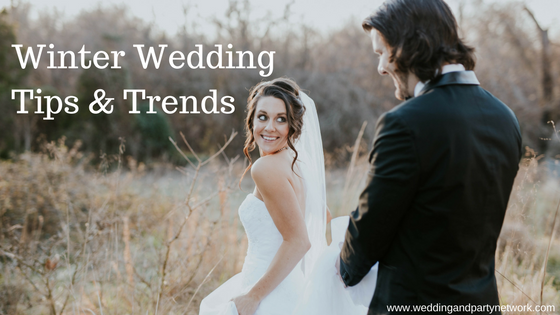 There is hardly a more magical time to get married than the winter, particularly in areas replete with snow and cool temps where the majesty of the season really thrives. Pairing a magical event during a magical time can make for a memorable event. Here is a little help to get you started.
Embrace the cooler weather and look amazing while still being comfortable by adding a cover-up. The last thing you want to do is shiver while you say your vows, so wear something that is practical without sacrificing the look you're going for. Try a faux-fur jacket or shawl, a classy add-on to your ensemble that will enhance the way you look. For a bit of drama, wear a hooded bridal cape. This works especially well if you're outside with snow falling.
If you are a bride who opted for a laid-back look, throw a sweater over your dress. Or, a beautiful shawl in the same white as your dress might also be stunning, while adding a feminine flair. If you opt for a coverup, you can wear any dress you like, so you are not limited to heavy fabrics with full sleeves and high collars.
Picking out the right piece will add a bit of personality, not take away from the overall look. You can also wear tights underneath your dress to be warm from head to toe. Of course, if you're inside and just need a bit of fabric to keep you warm, long-sleeved wedding dresses have seen a resurgence in recent years. They are both practical and sexy. If you still want a bit of drama, select a dress with a lowered back line. If your wedding is outside (and hopefully in the snow) consider a jeweled headband or natural greenery headpiece.
If you have a snowy white landscape, bright colors will pop in a way they normally wouldn't. Particularly pretty colors for a winter wedding include purple, red, brown, and dark blue hues. For a metallic look, try dark eggplant, raspberry, silver and rose gold. If you love red as the main color in your scheme, try a deep shade with white, spruce, and light brown. How about red, navy, and ivory as a combination of warm and cool? Brown is such a rich color to wear and to decorate with. Pair dark brown with a lighter shade, then sprinkle in a soft blue for a crisp palate. For a softer look, combine carnation pink, brown, and sage green. Vibrant is the word for colors in a winter setting.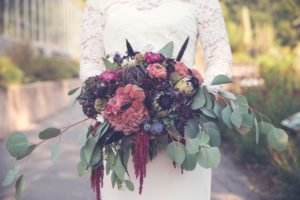 Choices for wedding flowers in the winter are plentiful and will make for a lush bouquet. Flowers in season include amaryllis, carnations, gerberas, roses, tulips, Star of Bethlehem, lilies, gardenia, and others. Some filler stems include Queen Anne's Lace, solidago, waxflower, and gypsophila. Ranunculus flowers are at their peak from January to May; these flowers are a lush substitute to roses and come in orange, red, pink, white, and yellow. Sweet peas add a fragrant element to bouquets while adding color. You can find them in pink, purple, red and white.
An obvious choice for your wedding might be poinsettias, which can be found in a marbled variety, white, and the ever-favorite, red. For brides on a budget, carnations are a good choice. They are available all year, have a lovely scent and can be found in orange, pink, purple, red, yellow, and bicolor. The top winter wedding flowers are begonias (white, yellow, red), succulents (pink, green, purple), dahlias (white, yellow, pink, orange), and protea, a large and vibrant flower found in pink, purple, and red.
Winter weddings are also the perfect setting for fireplaces, candles, and dimmed lights. Silver branches adorned in red and gold foliage are great during this time of year, and berries, pinecones, and evergreens make excellent natural accents. Winter allows for rich dessert tables, hot cocoa bars with peppermints and marshmallows, and comfort food at receptions. Twinkling lights coming on as it turns to dusk only adds to the romance of winter weddings.
Are you planning a winter wedding? Let us help you find the perfect venue!