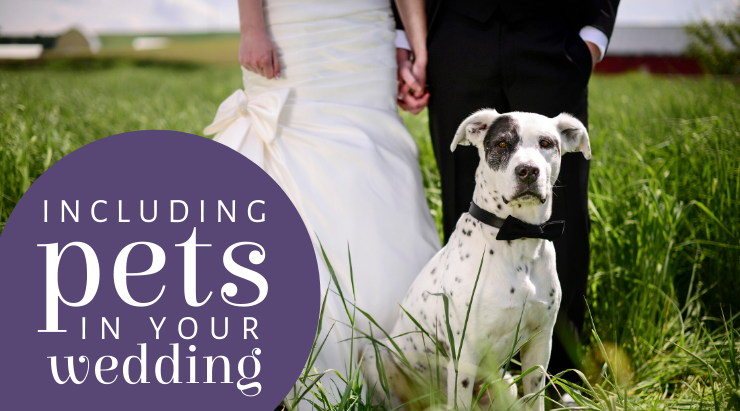 Your big day is almost here and you can't imagine spending it without your best friend involved. No, not that sorority sister from college, or your best friend from elementary school—your pet!
Pets hold a special place in our hearts, and for many couples, it is just as important to include them in the wedding. With so many weddings stepping away from standard traditions, here are some fun ways to make sure your pets can be part of your big day too!
---
Honor them with a cake topper
If you can't actually bring your pet to the wedding, honor them with the cake topper! There are so many online shops and businesses that will help you personalize various wedding decor items and the cake topper is no different. Along with your new last name and wedding date, add a silhouette of your cat or dog to the topper.
Name your signature cocktail after them
Signature cocktails are the perfect way to keep guests happy while keeping the bar menu simple. Many brides and grooms like to label them as "His" and "Hers" drinks but why not mix it up and name them after your beloved pet?
If you have more than two pets, throw in a few more cocktails or punches. After all, Mrs. Fluffy would be perfect for a sparkling pink champagne punch and The Rex would work great for a whiskey-based drink!
Substitute bouquets for puppies
It's becoming trendy to toss out bridesmaid bouquets and instead carry puppies (or kittens!) down the aisle. If you're lucky enough to have a litter at home, leash them up for the day and assign each one to a bridesmaid or groomsmen.
If you don't happen to have your own furry babies, partner with a local animal shelter. Make sure to announce to your guests that all of the dogs or cats are available for adoption. At the end of the day, you get a new spouse, and somebody else goes home with a new forever friend.
Let them give you away
Many brides opt for their mother or another family member to give them away on the big day. Some even choose to have two people walk them down the aisle. Think about adding in your pet to the mix—it'll make your ceremony even more special. After all, they will always be your best friend, so it's only right to include them!
Designate them as the ring bearer/flower girl
Perhaps the most fun way to include your pet at the wedding is to dress them up as the ring bearer or flower girl. This is especially helpful if you don't have any young children around to fulfill the role.
Whatever you decide, don't forget to throw in a flower crown or a bowtie to really help them look the part!
Spend your wedding celebrating with all your loved ones—especially your pets! Let us know how you included your pets on your big day!
---
Still need to buy wedding supplies?