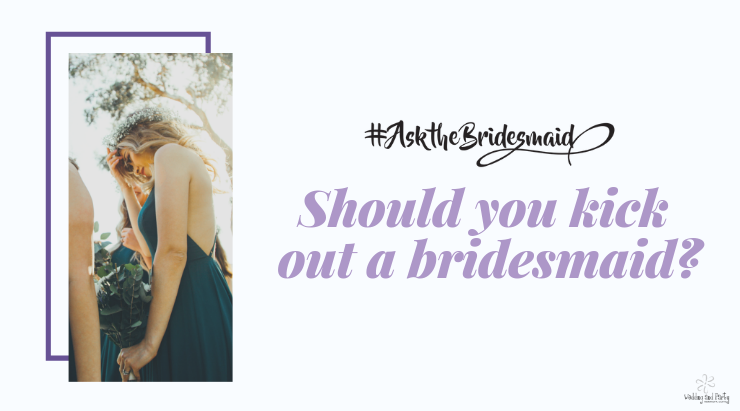 Earlier this week, a Reddit user sparked interest when she told a story from her wedding. She was complaining to users because she was deemed rude by kicking out her maid of honor after her MOH delivered her speech. Not to mention her MOH was her sister. She was complaining because her sister has used this time to talk about her depression and how the groom had helped her through this tough. This was when she knew the groom was meant for the bride. After the speech, many of the guests, according to the disgruntled bride, showed more attention to the MOH than herself. Because of that, the bride decided to kick the MOH out. Now the question is was this justified? And, how do you know when to kick out a bridesmaid?
The answer isn't easy, and there is no perfect moment to know when you should kick someone out of your wedding. Sometimes it doesn't happen till it's too late. However, there are things to consider and help you handle the situation that might save your friendship instead of ruining it.
What are you upset about?
What is it that is getting under your skin about this bridesmaid? Is it something small that could be brushed aside? And, will it cause a huge rift between you two? If you can find a valid reason to kick a bridesmaid out of your wedding, then you need to do so. However, if it is something you can easily ignore then don't let it bother you.
Remember your reasons.
Why did you want them in your bridal party? Were you filling a spot? Or, is she a lifelong friend that you needed her there by your side, when you remember the reason why it will help direct you on what kind of actions you need to take.
Talk it out.
The best thing to do in any tough situation that involves another person is to talk it out privately. It may be tough to figure out what the right words are to say to them. However, put your anger aside and try to figure out how you are going to say what you need to say. It might even help to write down your thoughts.
Parting ways.
If there is no solution that you both can agree on, it might be best to party way. If this bridesmaid has invested some of her money in your wedding, you might need to consider that. Try to find a way to part ways that will allow you to be friends or even see each other at major holidays.
In the story above, it does seem like the MOH was taking away a lot of the attention from the bride and groom. Granted, the damage was already done, and kicking out your sister seems to add more hurt and healing. What the bride could've done was talked to the MOH and explain how it made her feel.
We hope this will help you navigate through those tough situations, and you won't have to dismiss one of your bridesmaids or MOH.