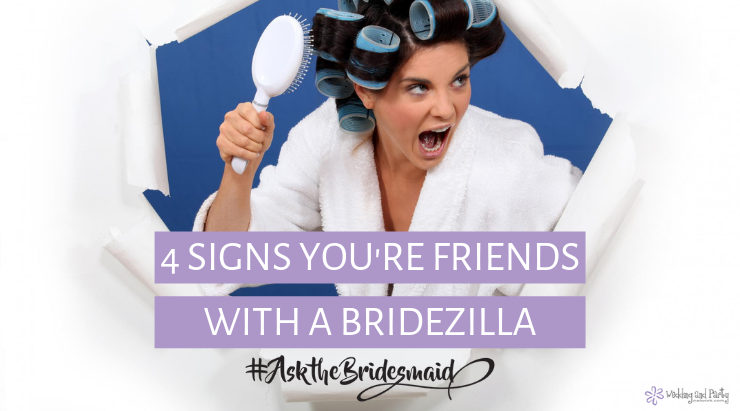 We are all worried or scared of dealing with a terrible monster. It's dressed in white with messy hair – sometimes a bun –  and has crazy eyes! Sound familiar? It could be that it's your best friend turned into a nasty bridezilla! There are tell-tale signs that your bestie could be turning into a monster that we all try to avoid when weddings roll around. SO to keep you safe, we have some warning signs to look out for in your friend.
1. Upset at Unreasonable Times
There may be times when you're just hanging out with your friend, and it's not wedding related. Then all of a sudden she turns from a reasonable adult to an unreasonable child and starts bring up things that are wedding related. She starts getting angry and upset with you, but it has nothing to do with what you both are doing at the moment.
2. Color Coordination Gets Way Too Out of Hand
Recently, it was reported that a bride was thinking about having her bridesmaids change their eye color to match their dresses. If this is about to happen to you – RUN! Honestly, there's no excuse for a bride to make her bridesmaids change something that they have no control of.
3. Unreasonable Requests
On that point, a bride putting her bridesmaids on a strict diet or telling them they have to be a certain size is also wrong. A bride should never shame her bridesmaid into losing weight in an unhealthy amount of time. If you would like to lose weight before the wedding, that is totally fine. This is just one example. It can range from weight to how much money you spend.
4. Obsessed with Perfection
If there's one thing that some brides need to understand, it's that no wedding is ever going to be perfect. Blaming you and other bridesmaids for something that is out of your control will not help the situation – whatever it may be.
There will definitely be some frustrating areas, and it's 100% okay for your friendly bride to get angry. However, these situations we mentioned are extreme cases where you really are dealing with a Godzilla monster and not your friend. We hope this will help you navigate wedding season and STAY SAFE from the Bridezilla!