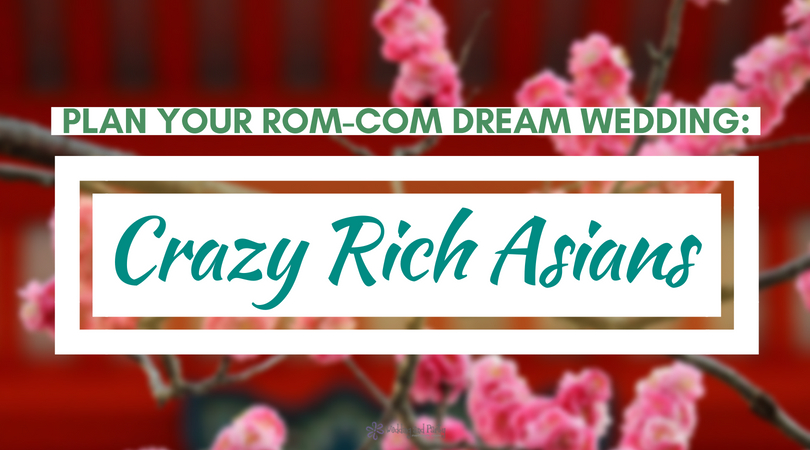 Earlier this month we told you August was the month for the romantics, and thankfully August 2018 has not disappointed the romantics! With the recent release of Crazy Rich Asians and To All the Boys I've Loved Before, rom-com lovers have been buzzing with love for these movies. If you haven't seen these two wonderful movies, it's an absolute must- especially if you are about to plan your wedding. You will definitely want to see Crazy Rich Asians for some major inspo. However, we all know you may not have the 40 million dollar budget (you read that correctly: FORTY MILLION!) that Araminta Lee has in this wedding. So we are going to give you some tips on how to plan your crazy rich wedding on a budget!

1. Venue
First thing first is finding a venue. You're going to want to find a place that is going to be okay working with your plans. In Crazy Rich Asians, Araminta doesn't walk down the aisle covered with an aisle runner; she walks down a beautiful aisle of flowing water that flows in front of her. Granted, you may not have a venue that would be okay with free running water, but one way to incorporate something similar would be to have a small water feature or to have a cute wishing well. There are great decorations that could have the same effect. You wouldn't want them running while everyone is sitting down. Instead, wait until you walk down the aisle, have them turn on, and then pause. Wait a bit and then start walking down the aisle. This will give you the same effect that Araminta had when she walked down the aisle.
2. Florals and Greenery
Not enough can be said about the perfection that was the tall grass and florist work. The guests in the wedding scene sat among the tall grass, and the aisle was decorated with bright florals. You may not have the budget to have tall grass everywhere but talk with your local nursery to see what they can provide for you. You may place it in the front of the guests or line it up in just the aisle area. Don't forget the tropical palms! This adds elegance to the room. Your local florist will be able to create a gorgeous bouquet and aisle florals; just be sure to contact them ahead of time, so they can order the flowers you are wanting.
3. Decor
While your greenery and florals will make for amazing decor, you can still add a little something extra by incorporating your guests into the decor. Yup, you read that right! Get your guests involved. When Araminta walked down the aisle, the guests help up these whimsical butterfly lights that guided her down to her fiancé. If you don't want butterfly lights, try bubbles or flower petals. You don't have to use them for when you and your spouse leave. Make your entrance to your wedding spectacular!
4. Music
Choosing the song you are going to walk down the aisle to is important; the song that was used during this wedding brought tears to the people watching. It wasn't a new song, but rather a song that was sung in such a way that made the moment memorable. The song was Can't Stop Falling In Love, sung by Kina Grannis. As it begins, the flower girls and ring bearer walk down the aisle witht he flower girls dropping orchids into the aisle. Then the lights dim, water starts flowing gracefully down the aisle, there's a pause where you see the bridesmaids part, and the bride walks down the aisle staring lovingly into her future husband's eyes. This was different than most wedding where the bridesmaid walk down first, but it totally worked! So if you want to mix things up, then do it! Find a song that works for you and time it so you can make your entrance one to remember!
You may not have the budget of 40 million dollars to pull off a crazy rich wedding, but you can certainly incorporate elements into your wedding to make it a dream come true!
Start Planning Your Dream Wedding Today: