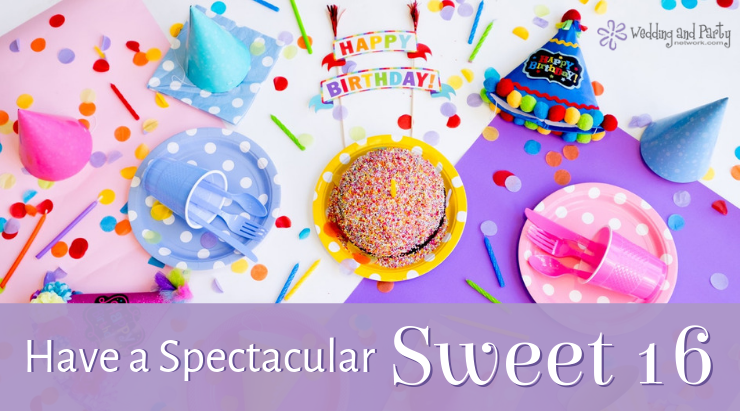 Planning a spectacular party can be a hassle, especially coming up with great ideas for the event. Instead of stressing about the details, let our party tips for a Sweet 16 do the hard work for you! If you want your party to be a memorable one, make sure you pick a theme that can be seamlessly incorporated throughout the occasion. And make it personal! A Sweet 16 is all about you, so pick out what you like and have fun with it.
---
Dance the Night Away
Who doesn't love a good dance party? Blow off some steam with your friends and family with this popular theme. Hire a great DJ to keep everybody moving all night long. You'll also need stellar lighting, a dance competition, and plenty of snacks and drinks!
Movie in the Outdoors
Outdoor movie theaters don't have to be a thing of the past—create your own in your backyard. Rent a big blow-up screen and projector, pick out your favorite movies, and enjoy them all with your guests. Celebrate your birthday in style by incorporating fun games and handing out party favors (don't forget the popcorn!)
Classic Pool Party
You can't go wrong with a pool party; this one's a classic for a reason. The warm weather is finally here, so relax by the poolside and hang out with your friends. Host a cannonball competition and keep the music flowing. If you don't have them already, get a volleyball net, basketball hoop, and any other inflatable you desire!
Roller Derby
Don't skate by this theme; roller skating is a fun activity for everyone! Host your party at your local roller skating rink and have fun games to do throughout the night like a limbo competition. Enhance the party experience with some killer tunes and eat some cake with your friends and family.
Scavenger Hunt
This party theme will be quite an adventure. Have a friend or parent come up with clues so you can enjoy the night with your guests. Theme each stop on the way and offer clues in riddles. Make sure the final location is a secret, and once everyone arrives from the scavenger hunt, you can all celebrate together!
Enjoy this milestone in your life with your loved ones by throwing the perfect Sweet 16 celebration. Any of these party themes will be a blast; let us know which one you choose!
---
Need party supplies for the occasion?