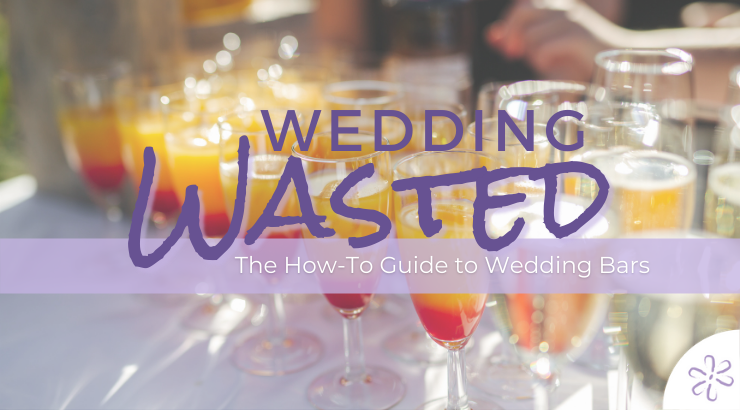 If you're anything like us, the bar is probably your favorite part of any wedding reception. We are firm believers that the party doesn't start until old Aunt Gretta has had a few and is breaking it down to the Electric Slide. The bar is a pretty significant part of many wedding receptions, but it can be overwhelming trying to decide what type of bar you want to have. Don't worry though, bestie, we'll break it down for you!
The most typical types of reception bars are open bars, cash bars, signature cocktails, and beer and wine. The main thing to consider when choosing your preferred bar is pricing and how it's going to be paid for. However, no matter how you intend to foot the bill, you can get creative with any of these bar styles.
Open Bar
This is your chance for everyone to talk about how fun your wedding was for years to come. Open bars are pretty popular amongst attendees because they can indulge in however much alcohol they want at no cost to them. The kicker is that you're responsible for the bill here so be wise in how you choose to pay. There are two main types of pricing options for open bars — bar packages and pricing by consumption. Bar packages are charged as a fixed price per guest while pricing by consumption is charged by the amount served. Bar packages are great if you know you will have a lot of guests as it keeps the price a little more reasonable for larger parties. With an open bar, you also don't have to think about any specific types of drinks to keep such as signature cocktails, wine and beer options, etc. In the end, you can please everyone and usually set a budget with your vendor upfront to avoid any surprise costs.
Signature Cocktails
Recent wedding trends have included signature cocktails in addition to a full open bar. This gives you the chance to personalize your wedding even more. You can do his and hers cocktails, a drink tied to a significant memory, or one simply matching your wedding theme. A signature cocktail can also be a great addition to a wine and beer bar if you are looking for a less pricey bar option. Choose this option if you are wanting to customize the overall appearance or functionality of your bar. Rather than traditional servers, you could turn your bar into a tap, a punch bowl, or a classy keg. They don't have to be designated to just college parties.
Soft Bar
A soft bar is like a wine and beer bar in that

it typically doesn't include hard liquor. This is another great option for cutting costs and keeping your guests in check, so if you have a few family members who can't be trusted you may consider a soft bar. Soft bars don't have to be just wine and beer. It can include champagne and even non-alcoholic drinks. You can still include a few different options in the way of wine varieties and soft drinks, and it will be easy for the bar staff to serve drinks quickly with fewer options.
No matter what type of bar you choose, we don't know many people who are mad at free alcohol. Get creative and have fun with this just like everything else in your wedding! After all, you're being celebrated by all the people who love you most so no matter your choice, they are very unlikely to judge you unless you have a cash bar.