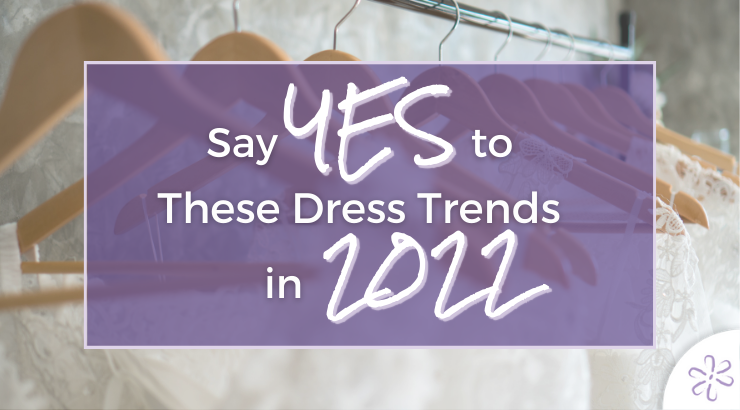 When it comes to your wedding day, one of the most exciting parts of the whole thing is showing off your wedding look. The moment you walk down the aisle and everyone takes that audible gasp at the same time is honestly the best part of the day (don't worry, we won't tell your new spouse).

There's a lot of research that goes into that big moment though. You watch "Say Yes To The Dress," you pin dozens of looks on Pinterest, and you try on countless dresses until you find "The One." But with literally hundreds of styles to choose from, the whole thing can be a little overwhelming- trust us, we're speaking from personal experience. Don't stress though, we're here to help! We've come up with a list of the best trends we've seen so far in 2022, to help you narrow down your search and find that perfect, jaw-dropping look for your big day.
Sleeves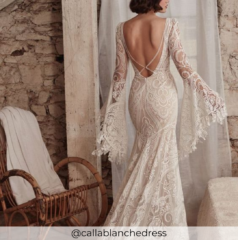 While strapless dresses do have their moments, everybody loves a good sleeve. We're not just talking about the traditional long or capped sleeve options (though you can't go wrong with a classic). We mean the dramatic statement sleeves showing up more and more in wedding dress styles. Bishop sleeves, butterfly sleeves, bell sleeves, and other sleeve styles that don't start with the letter "B." If you like the idea of sleeves, but don't want to commit to wearing them all day, there are even detachable options! When it comes to sleeves, the limit does not exist. This year, the biggest trend in sleeves seems to be flowy and romantic. If your dream is to look like a fairy princess or a boho babe, or if you just love sleeves like we do, you'll have no problem finding the perfect style.
Separates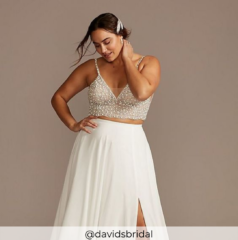 One of the most versatile trends this year is definitely choosing bridal separates over the traditional gown. The possibilities are basically endless here. Want a lace top and a satin skirt? Done. Want pants instead? No problem. When you choose separates for your wedding look, you get to customize the pieces to fit your style without having to design your own dress. Another bonus? You can switch out the pieces for the reception to create a whole new look! You could also wear one of the pieces for a sweet anniversary moment for years to come.
Accessories
This year, brides are adding a fun twist to traditional accessories. While a veil is still a staple,
you've got more than just tulle to choose from. If you like a more vintage look, birdcage veils are back in style. For something a little more unique, look at an embroidered floral veil. Embroidered veils are a great way to add a pop of color to your wedding wardrobe, and the colors can be as bold or as subtle as you want! Looking for something other than a veil? Try a cape or hood. This is a unique choice that still gives you the dramatic flair of a veil. Whether you want soft and ethereal or bold and bright, capes and hoods come in all lengths and fabrics to compliment your dress.
Color
Lots of brides are branching out from the traditional color wheel house of white and white variations. Stepping away from the white dress is a great way to express your individual style. The blushing bride can indeed wear blush, or any color they choose! Shades of blue are a fun take on the "something blue" tradition. If your favorite color is green, why not find a green dress you love as your wedding dress? Pastels are great for a more subtle approach, they're also one of the more popular trends in colorful dresses this year. You could also choose to take embroidered florals to a whole new level by adding them to your dress! Use your imagination, and let your personality shine through when it comes to your dress.
Second Look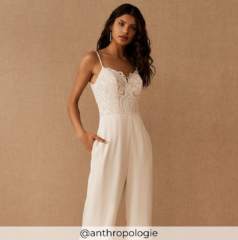 An oldie but a goodie, brides are still loving the idea of a "second look." Not only does it make dancing at the reception a little easier, it's a fun way to show off your style! If you want to keep your ceremony look more traditional, the reception is the perfect time to let your personality shine through. Did you fall in love with an over-the-top ball gown but still want to show off your curves? Change into a silky cocktail dress for your reception! Having a low-key backyard wedding? A cute sundress is perfect for that! Rompers, mini or midi dresses, pantsuits, there are no wrong choices here. Whatever you want to wear, this is the time to wear it.
As you go through the process of choosing your wedding look, remember it's ultimately all about YOU. Choose the style that makes you feel the best. We promise if you love the choice you make, everyone else will too!