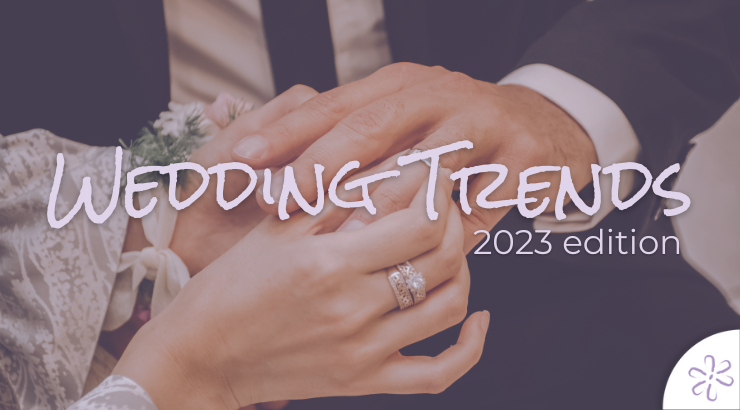 Spring is here and we're gearing up for one of the busiest times of the wedding season! It's the perfect time to go over some of the hottest trends for 2023. Every new year comes with new trends, but there are a few tried and true you'll remember from past wedding seasons. Without further ado, let's break down what to look for at your next celebration.
Popular Tones
Sage Green
Every year, greens seem to be one of the top contenders for wedding palettes, and this year is no different. Sage green became big last year and that's rolling into 2023 as well, but we aren't mad about it! Sage green is a timeless color that looks chic and classy with soft pastels, and effortless and elegant with colors like emerald green, rust, and coppery oranges.
Orange
Calling all my summer wedding couples! Orange is going to be hot this year. This bright and bold color definitely makes a statement. There are lots of different shades that you can use to tone up or tone down your palette, depending on the season or overall vibes. So don't be afraid to use it! You'll be surprised what you can come up with when you start going outside the box a little.
Champagne
We're pretty sure this one makes it on the docket every year, but who are we to argue with the trends? Champagne is a classic, and for good reason. It pairs nicely with basically everything—making it a great base to build unique color palettes since it's a nice neutral. It's often seen as romantic, so it's perfect for weddings! You can also use champagne in any season.
Lavender
The color lavender symbolizes elegance and beauty. It's soft, romantic, and just plain gorgeous, so we can't leave it off our list for 2023! It's most commonly used in the spring and summer months, but we won't tell you how to live your life. This is perfect for those brides that love wildflowers—lavender looks STUNNING in wildflower arrangements.
Themes to Watch
Bold and Beautiful
Neutral tones and décor will always be a popular choice for a wedding, but we are loving the vibrant color patterns on trend for this year! From Barbicore to all the shades of the rainbow, couples are not shying away from incorporating color into their big day! There's no limit to how color is being used either. You'll see tons of colorful florals, bold wedding signage and accents, even wedding dresses in all shades.
Do the Most
To go along with those bright and bold colors we'll be seeing, a lot of couples are doing away with the minimalism approach to their celebration and stepping into a minimalism theme. A mixture of textures and layers, bold statement pieces, and tons of energy are the highlights here, and over-the-top means you're doing it right! If minimalism is your dream wedding theme, you'll need extravagant table settings, dramatic décor, and a jaw-dropping wardrobe.
Make it an Experience
Micro weddings are just as popular as they were during the pandemic. A lot of couples would rather share their wedding with only those closest to them, and there's nothing wrong with that! The difference is now they aren't limited to how they celebrate with those select guests. Couples are opting to turn their big day into a bigger experience. This could be anything from a destination weekend full of group activities to a high-end dinner and dancing celebration, or anything meaningful to the couple and their friends and family. The point is to just experience this big life moment with the ones you love in the way you want to!
The best thing about weddings is they're an extension of the couple being celebrated. If none of these trends fit you and your partner, you don't have to choose one! Our favorite wedding trend any year is doing what you want, how you want. Because at the end of the day, it's your wedding, so do what makes you happy, bestie!