Feathers give this
13th birthday cake
make a lavish appearance. It brings to mind images of all the best things in life. Need a birthday cake for your little girl? Contact this Louisville cake bakery.
Submitted by :
BAKE MY DAY
in Louisville, Kentucky
BAKE MY DAY
"Bake My Day Is Custom Work Provided For Exceptional Clients, Catering, Cakes, Candy Buffets, Chocolate Fountains All Custom & Tailored To Your Day, Bake My Day"
Tollfree: (502) 939-0213
Local: (502) 386-6388
BAKE MY DAY
4113 Bardstown Road Suite 102
Louisville, KY 40219
Specialties Include:
Cheesecakes
Holiday Catering
Sugar Free Muffins
Bartenders
Gourmet Desserts
Pies
Wedding Banquet Halls
Party Catering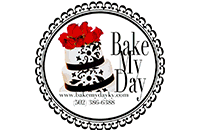 Wedding & Party Network Photo Gallery
Life is more rewarding when you share. Submit your party or wedding pictures and share the fun and happiness of your event.