Butterflies have always been a symbol of new beginnings, transition, and renewed hope for the future. They are unique and a memorable way to celebrate any special occasion. Whether you are planning a wedding, birthday, graduation party or retirement, butterfly releases create an unforgettable moment.
Butterfly Wings-N-Wishes
has just what you're looking for and more to create a beautiful memory for any event.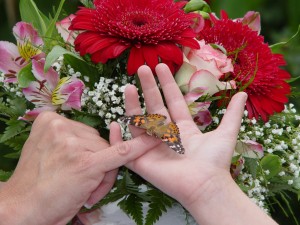 Butterfly Wings-N-Wishes
is a company dedicated to conservation through education, as well as creating a memorable moment for special events. They started out small, but have grown so much over the past few years!  Now offering a multitude of services, including presentations on butterflies and insects, decomposers, and reptiles & amphibians. On top of this, they do
butterfly releases
for weddings and special events.
Releasing butterflies at your wedding would truly be a memorable moment that signifies the start of your new life together. Choose from various packages that are best suited for your day such as:


Packaged butterflies in individual release boxes so each guest can release a butterfly and make a wish


Their butterflies can be released from one or two large decorated boxes to fly together


Decorated flight cages are available for releasing two butterflies from a rose bowl to create a romantic atmosphere


Choose from monarch butterflies, painted lady butterflies, wedding butterflies or swallowtail butterflies


There are many reasons to release butterflies. Not only is it a momentous occasion, but it truly does signify a special beginning. Maybe it's the start of a new life together or a brand new year, regardless of what you are celebrating releasing butterflies at your event signifies something amazing.
Butterfly Wings-N-Wishes
in
Edmonton, AB
is ready to supply you with gorgeous butterflies for any special occasion. Just watching them fly off makes for an unbelievable moment.