It's wedding planning time. You've booked the venue, you've picked out the music and you've found the perfect dress. You even found a suitable groom! So now you need the cake. And not just A cake but THE cake. Oh yeah, and the groom is supposed to get one too. So where do you turn? Who offers the best cakes available in the Lafayette, LA area?
Crystal Weddings
!
A Member of the Family
When you order from Mary Boudreaux and Crystal Williams, you are more than just another customer. They take the necessary time to get to know you, your desires for the cake they will bake and they work hard to treat you like family. They will advise you on size, flavor and anything else you need help with as well as create the best cake you've ever tasted and quite possibly the most gorgeous cake you've ever seen!
And the excellent work doesn't stop with the wedding cake. The groom's cake gets just as much attention and some of their past creations are beyond impressive.
Breathtakingly Beautiful AND Delicious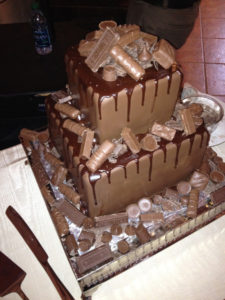 But these ladies aren't just about how the cake looks. They are equally concerned with how it tastes. That's why they offer so many different flavor options for your tasting enjoyment. You can get 6 different types of cake with a mind-blowing 26 different flavors and a scrumptious 5 different types of icing. Just think of all the different combinations!
And I don't mean to get anyone too excited, but you won't be getting just a standard decorated cake with icing. Oh, no. This cake comes with a 
filling
! Yes, filling! That's like a tremendously yummy vein of icing coursing through an already moist, mouthwatering cake. Can it get any better than that? No, the answer is no.
So if you want the best cakes in the Lafayette, LA area, it's gotta be
Crystal Weddings
! But don't wait too long. They prefer a 6-month lee time on wedding cakes as they work so hard on them that they have to restrict themselves to only doing a few a week. So don't hesitate, contact them today!
One look at the extreme grooms cakes by
Crystal Wedding
and you can see what sets them apart from other bakeries. The craftsmanship on their unique wedding cakes is mind blowing! Who would have ever thought to build LSU Stadium into a cake?? (Well they did! Several other Stadiums too.) The patience that the mother-daughter team put into their cake design is really remarkable.
Experience is definitely needed to create these masterpieces. Growing up in her mother Mary Boudreaux's bakery, its no wonder Crystal Williams joined the team. Together they have some 50 years experience under their belts. Knowing the importance of quality, they and their staff bake and cook in the finest of American, French and European traditions. Everything made by hand with the freshest ingredients.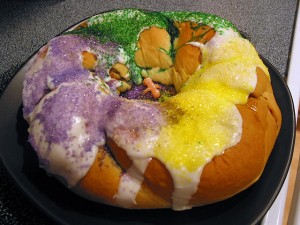 Speaking of traditions, ever heard of a King Cake? They are a uniquely New Orleans Mardi Gras tradition perfected by the
Lafayette, Louisiana bakery
. It looks like a giant festive pastry that serves 20-25 people! All cakes have a small trinket inside and who ever finds it in their piece has the privilege of buying next years cake! How festive! (They also ship these anywhere!)
A Mardi Gras themed party is not complete without the King Cake, but if its a wedding coming up Crystal Wedding's is your go-to source in for all your wedding planning needs. They have everything you need from toasting glasses,
chair covers
and cake toppers, to floral centerpieces, candelabras and topiaries. But of course, wedding cakes and grooms are their specialty! So if you are looking for an extra special wedding cake with an artistic flare Crystal Wedding is your place!