Have you dreamed about your wedding since you were younger? Do you plan out the perfect event in your head months before it actually happens? You want everything to be ideal and match your vision perfectly. Every detail must match and be cohesive to display your theme properly. From the colors, party accents to the flowers, everything must match to convey your theme. Flowers are one of the most important details when planning an event, they are eye-catching. So, if you're in the
Burnaby, British Columbia
area,
Petal Pushers Florist Inc.
wants to design your dream flowers.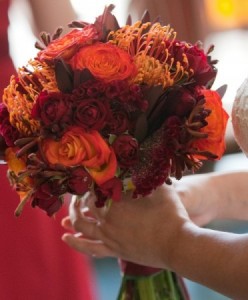 Petal Pushers Florist Inc.
wants to offer you beautiful flowers for all of your events. Whether you are sending flowers or wanting event &
wedding flowers
, they'll always go above and beyond to exceed your expectations. It is absolutely their pleasure.
If you're planning a wedding, from quaint and intimate to grand and elaborate, they take pride and pleasure in creating the perfect ambiance for your special day. With their extensive knowledge & design experience, they are always honored to help you in creating the vision of your desire.
Everyone has different visions and what they like, and this florist adjusts to that. Whether you like funky & modern or simple & elegant, their creative team will help you with your requirements to suit you theme and budget. They are there for you from start to finish with anything you may need.
Designing For Your Wedding
Designing for your wedding is always their number one priority, they'll treat you as if you're their only bride. Let them sit down with you and understand what type of style and designs you want at your wedding. This is your day and it must be unforgettable. If you're more a traditional & classic bride or an out-of-the-box bride, they'll design exactly what you've envisioned.
Are you planning a fall wedding? Well, a beautiful orange autumn wedding bouquet paired with orange & yellow reception centerpieces will definitely set the theme of your wedding. Even an all white wedding bouquet filled with elegant flowers accented with crystals will make for a beautiful bouquet for your classic wedding. Your wedding location decorated with your flowers and everything else, like your
wedding bouquet, bridesmaid bouquets
, boutonnieres and centerpieces will all set the tone of your dream wedding.
Beautiful Flowers For Your Next Event
Even if you aren't planning an event, but are wanting to plan a special event, they'll love to create beautiful event flowers for you. Again, they want to design your theme and convey it exactly through their floral designs. A holiday party, black & white soiree or autumn affair party; they'll design your event flowers. Even if you're sending flowers, they'll make sure it fits the occasion and the recipient.
If you want a florist that will have you in mind throughout the entire process and design amazingly beautiful flowers,
Petal Pushers Florist Inc.
is the only choice. Their exquisite designs and working with you through all steps makes them the choice for your florist when planning your wedding, event or just wanting to send flowers.