Root-A-Bakers Bakery
313 Flemingsburg Rd
Morehead, KY 40351
Specialties Include:
Cookie Bouquet
Buttercream Cakes
Cookies
Cookie Cakes
Gourmet Pastries
Custom Cakes
Sugar Free Muffins
Graduation Cakes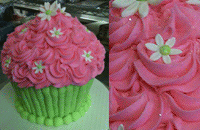 Are you Root-a-bakers Bakery?
Log in
to upload photos to your profile!
Testimonials
Social Media
Spotlight

customer
posted by
Ann in paragould, AR





The absolute best sugar cookies I have ever tasted!
Great Food!
posted by
Pam in paragoud, AR





The sugar cookies were fantastic! Best ever!
Great Food
posted by
Marla in Paragould, AR





Sugar cookies melts in your mouth. Best Ever!
Cakes & Bakeries
: Birthday Cakes, Cookies, Cupcakes, Custom Cakes, Party Cakes, Petit Fours, Special Occasion Cakes, Specialty Cakes, Sugar Free Cakes, Theme Cakes, Buttercream Cakes, Confections, Cookie Bouquet, Cookie Cakes, Decorated Cakes, Decorated Cookies, Delivered Birthday Cakes, Designer Cakes, Fondant Cakes, Gourmet Cakes, Gourmet Cookies, Gourmet Cupcakes, Gourmet Desserts, Gourmet Pastries, Graduation Cakes, Mini Cakes, Novelty Cakes, Pastries, Sugar Free Cookies, Sugar Free Cupcakes, Sugar Free Muffins, Quinceanera Cakes