Before WWII, Memorial Day was known as Decoration Day. As such, it was a tradition to decorate the graves of soldiers who had lost their lives in war. As illustrated by this photo taken in the 1930's, Decoration Day was taken quite seriously by its celebrants.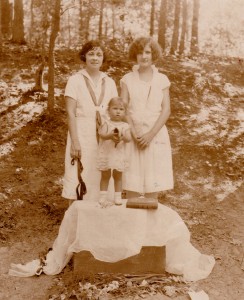 Today, what we know as Memorial Day, is celebrated on the last Monday of the month of May. Although the official government holiday was established to honor our dead veterans, many now use the day for mini holidays like going on picnics, spending time at the lake or traveling. Of course, there are still those that take flowers to the cemetery to decorate their loved ones tombstones.
The Ins and Outs of My Memorial Day Celebration
As the unofficial beginning of the summer vacation season, many people spend the day involved in numerous outdoor activities. Since it can be very hot already by the end of May, I like to entertain people who are not involved in those type of activities. Instead I prefer to host an indoor/outdoor party.
With the trees bloomed out, gardens planted and my porches spruced up, I am ready for the excitement of a memorial party. Because this is a casual party, I email or text invitations. I have a drop in, so those who might be returning from the lake or a trip can feel free to drop in. As there are always plenty of food and beverages, we often invite people we run into in the days leading up to the holiday.
My Decorations For The Day
Every serving area (and I have many) has a patriotic theme. I love the simplicity of this arrangement in a basket. With a few potted geraniums from your local nursery and some dollar store flags and you have a very appropriate patriotic centerpiece.
Fresh plants from the local nursery decorate the screened porch and are readily available at your local nursery. As it is early in the growing season, all plants are young and small but will provide big design if you take proper care.
In the above photos, you'll see that the patio is party ready having been cleaned and decorated with plants that have been newly planted. Now, my guests will have several areas to gather depending on the weather.
Memorial Day Menu
I keep my menu simple:
Chicken Salad Sandwiches
Sassy's Wieners
Shrimp Dip
Fruit and Cheese Plate
Bourbon Punch, Lemonade and Iced Tea
Just for fun, I will share my mother's recipe for Chicken Salad:
Boil some chicken.
Peel some celery
Boil some eggs
Put this into food processor until chopped; do not puree'. Add a dollop of mayonnaise (not salad dressing) and a dollop of Durkees'. You must have Durkees dressing. I keep four or five containers on hand in my pantry. Do not expect me to share if you do not return the glass quart jar I used for you before. Enjoy.
The recipe for the Shrimp Dip is as follows:
8 oz. Cream Cheese (room temp)
4 tbl. Chilie Sauce
1 tsp. onion juice
1 tsp. lemon juice
1 lb. shrimp
Peel and devein shrimp. Cook shrimp in shrimp boil mix. (I use medium shrimp). Cut into bite size pieces. Mix all other ingredients in food processor until smooth. Use milk if necessary to thin. Keep refrigerated but remove early enough to knock the chill off. I use Fritos with this dip. I will double or triple for this party. It will keep several days.
Memorial Day can be celebrated in many ways. If you don't have a lake or stream to go to, or you want to stay out of the traffic, you might want to try this type of party to entertain yourself and your friends. With most going back to work the next day, it may turn into the party to remember.