Do you love movies? Are you looking for fun activities to wrap up those last few summer nights? Host a movie night in the backyard that will become everyone's favorite summer memory. With a little planning, you can transform your backyard into an outdoor theater!
Tickets, please.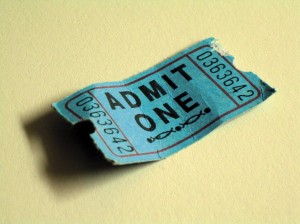 Send out invitations to friends, family and neighbors about a week ahead of time. Here is a link to a tutorial to make your own super cool movie ticket invites! These are great because they look just like a theater ticket and also remind everyone to bring their blankets or lawn chairs.
Be sure and check what time the sun will be setting on your party date. Make your start time just a little before dark so everyone has time to settle in by the time it is dark enough to see the screen well.
Set The Stage
Decorate the entrance to your backyard with some colorful balloons and streamers. You can even print out your over movie poster on your home printer by creating a tiled print. Add a "Now Showing" sign to complete the theater look.
Unless you want to move your giant flat screen TV outside (That's ok if you do. High Definition!)  you are going to need a projector and a screen.
There are some mini projectors that you can get for your tablet (even your smartphone!) if you want to keep it pretty low key. If you already have a flat surface like the side of your house, garage door, or a tall fence, hanging a white sheet can do the trick for a DIY screen. Make sure and test everything well beforehand to work out all the kinks before guests arrive.
If you are throwing a blast to be remembered, there are lots of local event rentals that have everything needed for a picture-perfect night outdoors. Designate an area in front of your screen for blankets with lawn chairs making up the back row. And don't forget to stock up on some citronella candles to keep away pests. The little extra candle light will shine the way to the snack bar when someone needs a refill.
Concession Stand Snacks
Lots of popcorn is on top of the list. But don't forget drinks. Sodas, iced sweet, lemonade, or something stronger? Whatever will complete your movie experience, consider picking up some disposable cups with lids. It's just like the movies and will prevent spills when setting drinks on lawn chairs or in the grass.
Pick up some theater-sized boxes of classic candy like Milk Duds, M&Ms and Red Vines that guests can share. Atmosphere complete without the sticky floor!
That's a Wrap!
When the sun sets and the movie flickers, lighting up everyone's face, your backyard will be filled with that unmistakable movie magic. Enjoying your favorite film outside is a great way to celebrate at home. Summer is passing fast so don't wait too long or you'll have to really wrap up!
Think this is a cool idea? Let us know in the comments. And definitely share some photos after you enjoy a flick out under the stars.
Not sure what to watch? Here's some suggestions that are drive-in ready!
| | |
| --- | --- |
| Kids | Fantasia, E.T., Iron Giant, Wreck-It Ralph |
| Girl's Night | Thelma & Louise, Breakfast at Tiffany's, Dirty Dancing, Bridesmaids |
| Classic Hollywood | Citizen Kane, Gone With The Wind, Who's Afraid of Virginia Wolfe, Casablanca |
| Creature Feature | Night of the Living Dead, Clash of the Titans, King Kong, Creature From The Black Lagoon |
| Summer Classic | Wet Hot American Summer, The Sandlot, Jaws, Caddyshack |
| Date Night | The Princess Bride, The Great Escape, Raising Arizona, Silver Linings Playbook |
| Art House | Easy Rider, Do The Right Thing, American Graffiti, Beasts Of The Southern Wild |