Sorry summer and spring. Move it, winter. My favorite season, by far, is autumn. Turning leaves, snuggle-inducing sweaters, warm drinks and Halloween are just a few of my favorite things to do and celebrate. There is no doubt that being outside, wrapped in a scarf and watching the leaves blow in the wind makes for a perfect day in my mind.
The first official day of Fall (also called the Autumn Equinox if you want to get technical) is coming up on September 22nd. Share all the warmth and happiness of this lovely season with your friends by hosting an Autumn Party this month!
Warm & Cozy Party Ideas
Backyard Bonfire
Gather around the fire pit with good music and stories to share. Enjoy the crisp night air and the smell of burning wood as you take in the stars with your guests.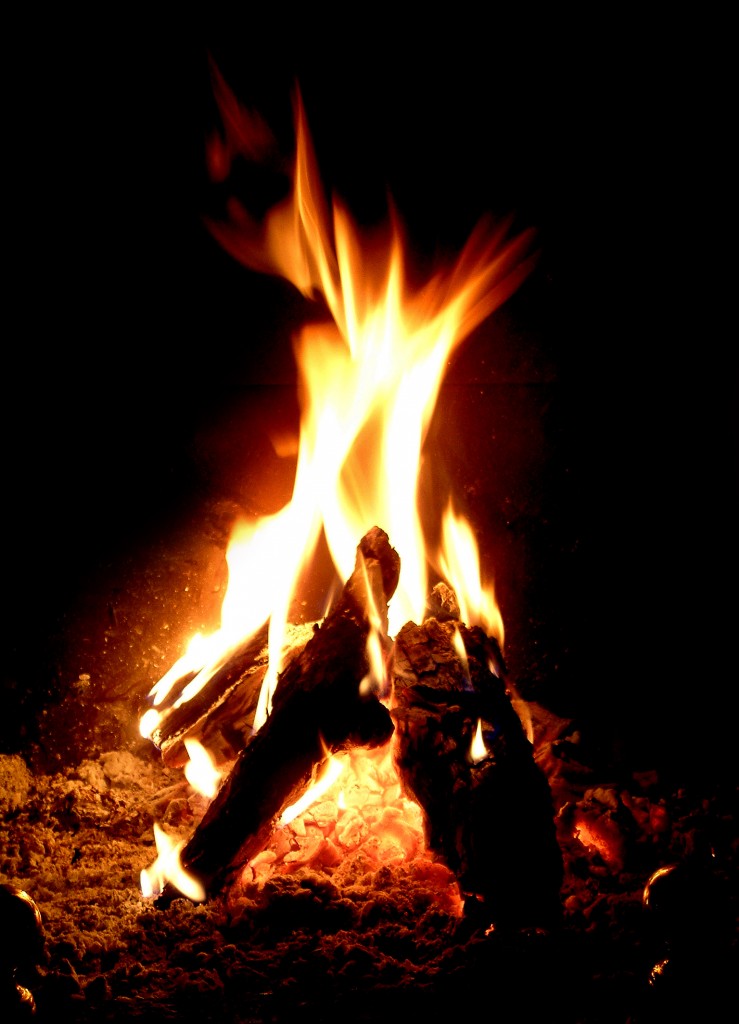 What To Do
If you or a friend has any musical ability, play a few sing-a-long songs to add a traditional camp feel to your evening. Of course, there are plenty of group songs that can be sung with no musical accompaniment but I think that depends on how brave you are in leading your guests.
Scary stories are also a staple, even if you just decide to laugh about urban legends you can recall.
If you think this sounds sorta cheesy, embrace it! You'll be surprised at how everyone will enjoy a classic campfire night. It will be a totally new experience for some and others will be transported back to camp memories of their youth.
How To Decorate
Your bonfire will be the focus of your party, that's for sure. Surround the area with lawn chairs and set up a snack and drink table nearby. Set the tone with a checkered tablecloth. Place tea lights in mason jars to provide warm points of flickering light after the sun goes down.
Use any enamelware camping gear you have to offer up your party food. If you don't have enough tin mugs to go around, use them to hold your napkins or cutlery. Pick up a camping lantern to add charm and help light the path from your house to the gathering.
What To Serve
Nothing could be better than crunching into warm freshly toasted s'more around a fire! Hand out roasting forks or wooden skewers to your guests and offer up big stacks of graham crackers, marshmallows and chocolate for the best of bonfire traditions.
For an easy and memorable drink, try our delicious Slow Cooker Hot Chocolate! Just mix it up before you start decorating and by the time your guests arrive it will be creamy and perfect. Serve with marshmallows and happy sipping!
Slow Cooker Hot Chocolate
6 cups milk – Skim or 2%
1.5 cups heavy whipping cream
(1) 14oz can sweetened condensed milk
1 teaspoon vanilla
1 tsp cinnamon
2 cups of chocolate chips – milk chocolate or semi-sweet
Place all ingredients into a 5 quart slow cooker set on low. Heat for 2 hours. Whisk every half hour to blend melted chocolate. Serves 6 to 10
Optional Add-ins
Baileys Irish Cream
mint liqueur
ground chipotle chile pepper
brewed coffee or espresso
Sunset Watching Party
Pick a place with a good view of the horizon – your backyard, a hillside or park – and have a picnic! You and guests can toast the colorful setting sun as it brings ever shorter fall days.
What To Do
Start this gathering an hour or so before the actual time the sun is scheduled to set. Listen to music, watch colored leaves fall and take photos in the glorious afternoon light. Then to wrap it up, sit back and relax on blankets as the sky slowly starts to change from blue to purple to pink.
This is a great way to catch up with friends you haven't seen in awhile or reconnect to those you see often but only get to scratch the surface with.
How To Decorate
Part of the appeal of this party is the easy no-fuss aspect. Consider the magic hour with the setting sun your party backdrop. Bring bright blankets for relaxing on the grass.  A nearby picnic table, with a tablecloth in your favorite color, will be a good place to arrange snacks and drinks.
Don't forget to bring a trash bag to keep things clean and a flashlight in case you stay a little later because you are enjoying yourself so much.
What To Serve
Picnics are typically cold cut affairs. So surprise guests with some hot appetizers! Make meatballs or dip in a travel-ready slowcooker or a covered casserole dish. Even chili is easy to serve at a picnic and compliments the cooler weather. Offer crackers, chips and fresh veggies for dipping. Serve craft beer or wine to stay warm on the inside while kicking back and taking in the brisk evening air.
Pumpkin Decorating Party
What says Fall more than pumpkins? Host a get-together for the craft-lover in all.
What To Do
Have guests bring their own pumpkins to decorate and provide brushes, tape, glue, paints and glitter to make awesome fall decor that gets noticed. Painted pumpkins, glittery pumpkins, pumpkin with designs like monograms and stripes – there are endless ways to make something unique your guests will love having on display the whole season.
How To Decorate
Great for showing off your personal style, create a few pumpkin creations ahead of time to decorate your home for the gathering. Big and bumpy, small and squat – there are so many ways to create a unique display. Pumpkins come in fantastic colors and varieties.
Paint the front of a large pumpkin with some chalkboard paint and write "Welcome" for your porch. Use this technique on several pumpkins to  help designate space like "Snacks" or "Decorating Supplies." You can include "Pumpkin Party!" for a cool centerpiece. After the gathering, you can change the messages to fit your decor.
What To Serve
Everyone will have their hands full while making their pumpkin masterpiece, so serve something easy to grab. Lots of hot coffee gives some energy to the group while homemade muffins like banana nut (or pumpkin!) are sweet, savory and filling all at once.
Short on time? Or want something extra special? Buy breads and muffins at your local bakery then pop them back in the oven to give them a warm bite and send intoxicating scents through your house. Serve with real butter for a cozy treat. There won't be a crumb left!
Start planning your parties now!