Are you ready for an all-night scary movie marathon, dancing in your cool costume and feasting on more candy treats than any other celebration?
Time to get your Halloween on and that means for your house as well! If you are hosting a orange and black soirée this year, here are some of the easiest ways to make your party decor a smash!
The best part about these DIY projects is you can knock them out in just a few hours and still have time for casting spells and howling at the moon. So play some spooky music and get in the spirit of Halloween!
DIY Halloween Projects
Paper Banner
Creating a paper Halloween banner is easy and can help create a focal point in your room. You can say it big or small without much effort.
"Happy Halloween" and "Trick or Treat" and "Boil Bubble Toil and Trouble" are classics.
But get creative! Have a favorite quote or something that would tie into your party theme? Spell it out with a banner.
Take a look at these free Halloween fonts! Pick your favorite and print out your letters. Use a whole page for a large banner or half a page for a smaller one.
You can trim each letter and back it with slightly bigger scrapbook paper to create a colored border.
Hole-punch each top corner and string through with some ribbon or twine.
DONE! Now your are ready to hang your message that won't go unnoticed by your guests.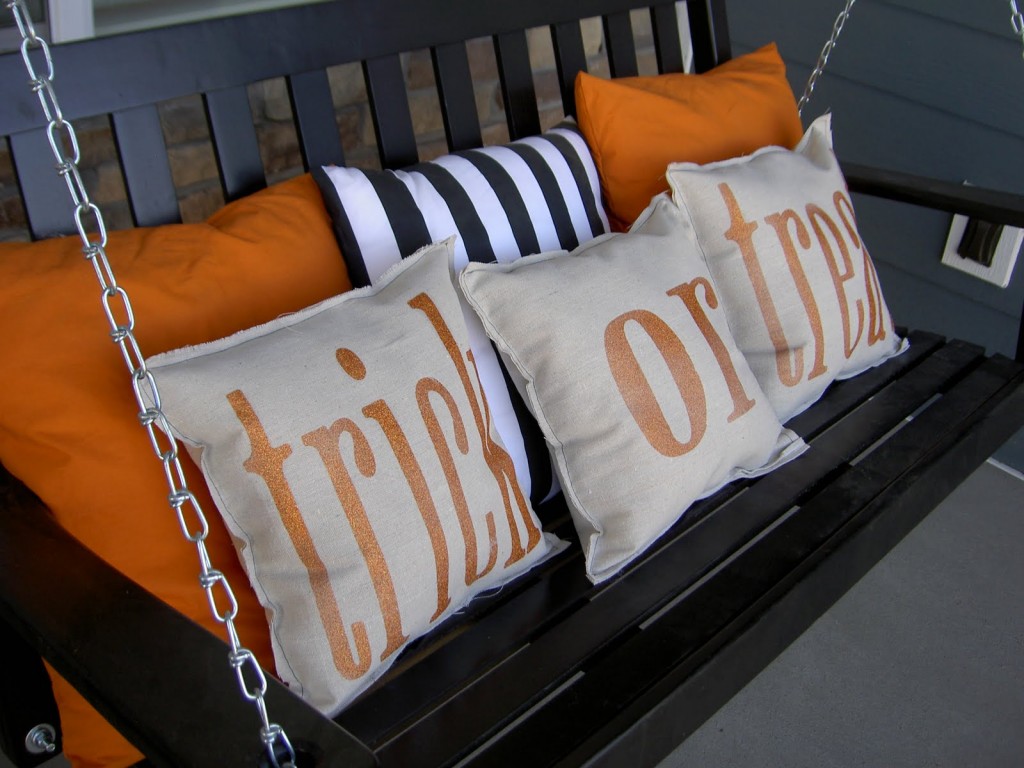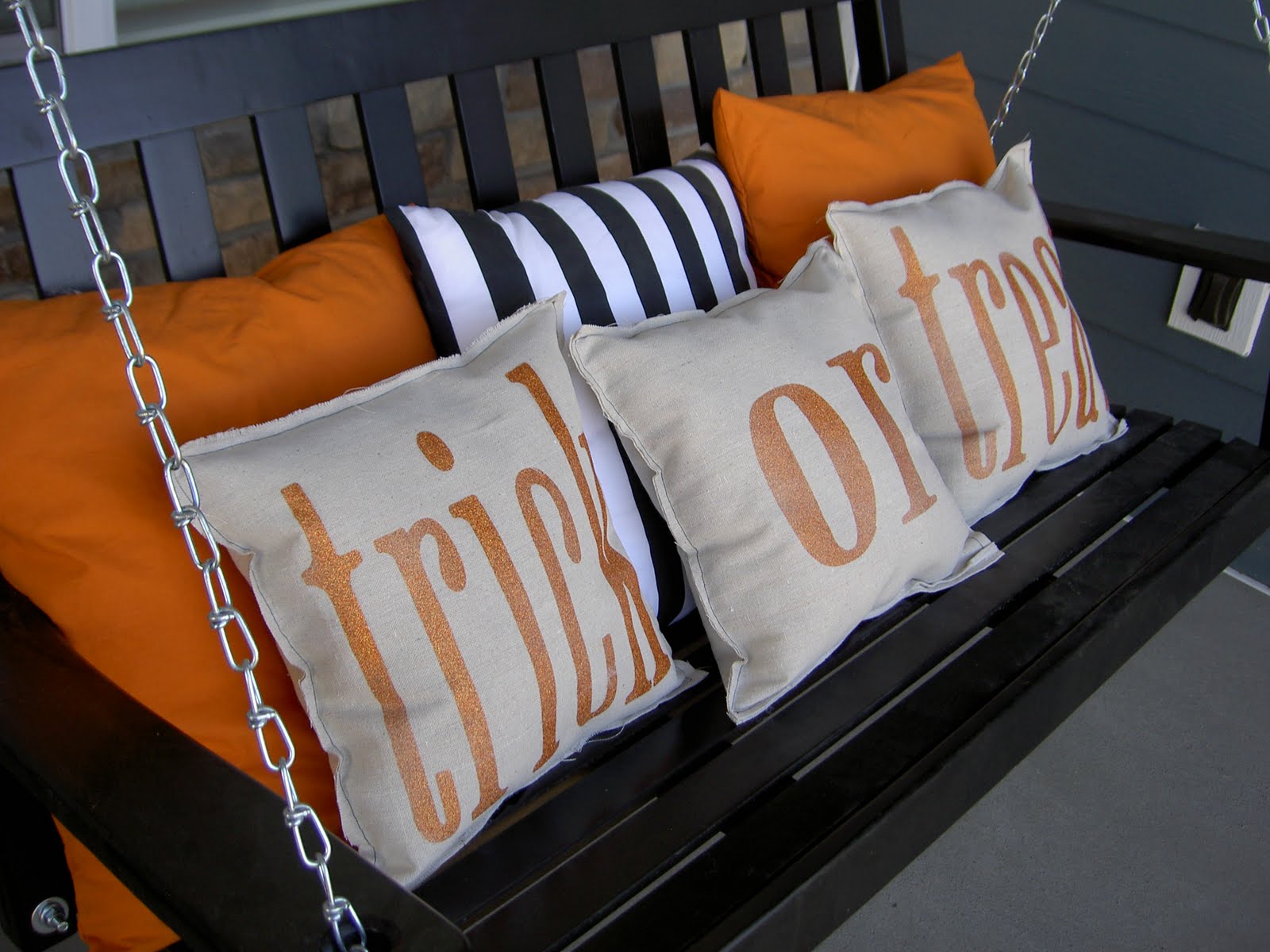 Throw Pillows
Any designer will tell you that decorative throw pillows are the perfect way to add some spice to your space. And at a party, having decor that is both festive and functional makes your house all the more inviting.
We love this excellent tutorial for Glitter Blast Halloween Pillows by Chapman Place blog. This is a project that utilizes inexpensive and easy to sew canvas drop cloths and glitter spray paint to create awesome pillows you are going to keep around years!
Create your own set of Halloween pillows for your couch, armchair or porch swing.
Pumpkin Decor
There are so much more to pumpkins than just carving!
While carving a pumpkin is a great tradition and there are many amazing ways to be creative with cut designs, don't overlook the beauty and mystery of different pumpkin varieties.
Hit up your local farmer's market or pumpkin patch for some more unusual types than what you find at the grocery store. You can use pumpkins to create a great centerpiece, accent a shelf, or line your walkway. The possibilities are endless and they will last all season. Let nature show off with these colorful and highly textured pumpkin varieties.
Upcycled Display Jars
Add a touch of witch-y elegance to your party snacks with these display jars. Stuff with your favorite Halloween treats like candy, cookies and especially anything colorful that will add to your table.
Remove the labels from jars of different shapes and sizes.
Use a nail and a hammer to punch a small hole in the lid.
Screw on a drawer pull or knob from your local home improvement store.
Paint the lids and knobs with black, orange, green, purple or whatever color fits your theme.
Voilà! Not only have you upcycled some beautiful glass but you've helped build a tablescape perfect for anything you have brewing in the cauldron.
Finishing Touch Ideas
Use cotton "spiderwebs" to stretch over your existing decor. This a fast and easy way to give everything in the room a haunted touch without a lot of work.  Remember the thinner and more wispy you can pull the webs – draping them across objects and connecting from high points to low points – the more realistic they will look.  Suddenly your packed bookshelf, framed photos, and lamps are now part of the party decor.
Change the lighting in your bathroom. Put a eerie green light in the fixture over the shower. Hang a paper lantern decked out with bat silhouettes. Place a dozen tea lights or jar candles in front of the mirror. Choose whatever works best for your space. By adding this extra touch in a place where party guests are most likely to stop and notice the decor, you will really tie the atmosphere of your event together.
Place black paper silhouettes in windows, then cover with colored tissue paper for a simple glowing effect! As your party-goers or trick-or-treaters arrive, windows filled with fun images – spiky monsters, black cats, twisted tree branches, witches – and illuminated by your indoor lights make a welcoming sight on Halloween night.
Faux cobbwebs, colored lights and ghostly cutouts are simple ways to transform your house into Halloweentown. Find your closest party store here.
With your house totally party-prepped, you'll be ready for all the excitement October 31st brings with it. Enjoy this fun holiday!
Photos provided by

Chapman Place

and WPN