Volume 3 Issue 6
5 Tips for the Summer Bride
Are you planning a summer wedding? This wedding is one that you'll remember a lifetime, every little detail represents how special this day is to you. So, do you need some last-minute wedding tips to make sure your wedding runs smoothly? Wedding and Party Network has 5 tips for the summer bride.
Have you purchased all your final details for the wedding? You may have over-looked a few little details like your toasting glasses, guest book, pen, unity candle, ring pillow, cake knife or your flower girl's basket.
Don't forget to buy gifts for your bridal party. Have the gifts wrapped and ready to go for your rehearsal dinner. Also, begin writing thank you notes to individuals who have helped you throughout the wedding.
Don't forget about your honeymoon details. This may go unnoticed with all the last-minute details to add to your wedding. This includes your air tickets, passport, hotel reservations, luggage, etc.. Don't forget to go over last-minute details with your travel agent as well. Another great idea is to start your shopping a few weeks in advance for the items you will need to take with you on your honeymoon. This may include electrical converters, converting your currency or buying travel sized products. Also, bring along one dollar bills to help with tipping. Make a checklist of everything you need to take with you and check the weather.
Any final payments to your wedding vendors should be ready to go. Have your check made out or money in an enveloped addressed to who it's for and let someone who you trust take care of them. So, these can be handed out when necessary.
Prepare a wedding day emergency kit. You never know what can happen on your wedding day. So, be ready for the unexpected with a wedding day emergency kit. What do you put in it? Make sure to include breath mints, makeup, curling iron, straight iron, bobby pins, tape, travel sewing kit, eye drops, toothbrush, toothpaste, small pack of tissues, extra cash and change, pair of comfortable shoes and always have your camera on hand. You never know what can happen on your wedding day, so it's always a plus to be prepared for anything.
If you are planning a summer wedding, let Wedding and Party Network help!

Plan Your Wedding On A Budget
There are so many little details that go into planning your wedding. These little details can certainly add up, making it costly. However, there are ways that you can cut back on your cost to make sure you get everything you want on your wedding budget.
Read more about Planning Your Wedding On A Budget.
Tips On Writing Your Wedding Vows
When it comes to planning your wedding, you want it to be special, memorable and personable. It's important that your wedding represents you as a couple. Therefore, writing your own wedding vows will definitely make your wedding more special. Read more about Tips On Writing Your Own Wedding Vows.

5 Delicious Wedding Favors
Within preparing for your wedding, you want everything to represent you and to make sure it stands out to your guests. It's important that you feature a unique wedding unlike anything else, yet still represents your personal style. This goes for every little detail including your wedding flowers, wedding cake, colors and even your wedding favors. Read more about 5 Delicious Wedding Favors.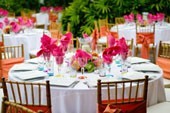 Plan An Intimate Beach Wedding
It's summertime. That means the weather is beautiful, sun is shining and it's a great time to plan a wedding. A wonderful wedding theme to go with the wonderful weather is a beach theme. You'll find lots of wonderful ideas for a beach wedding and a gorgeous location included. Read more about Planning An Intimate Beach Wedding.

It's All About The Shoes
It's all about the details when it comes to your wedding. Really, brides have no idea how many details actually go into it until they start to plan one. Of course, there are the big details like finding the right wedding dress, dream wedding site, the food & wedding cake and your wedding flowers. Read more about It's All About The Shoes.

Amping Up The Ceremony With Wedding Music Tips
Every little girl has dreamed of the moment where the wide cathedral doors open and reveal for the first time the beautiful bride as she makes her way to her groom. Countless hours are poured into making every moment as special as possible.
Read more about Amping Up The Ceremony With Wedding Music Tips.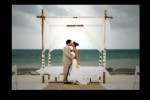 Icon Limousines Will Always Get You There on Time and in Style
Traveling in style is an absolute must. Some people tend to overlook this detail, however, it's extremely important. You focus on all the other little details like the colors, food, flowers and cake, so why not pay attention to how you travel?
Always Receive Show Stopping Cakes From Root-A-Bakers Bakery
So many details go into planning a wedding, birthday or special occasion. All of these details come together to create the theme and setting, therefore, everything must be the way you pictured it. So, your vendors need to understand you vision. Read more about Root-A-Bakers Bakery

Stand Out Creations From CR Flower & Gifts ~ A Bracebridge Florist
It's all in the details. Details are truly important when you are planning your wedding or special event. The details of your wedding or special event tells the story. It conveys the theme. All the decor that you feature including flowers, colors, balloons, vases, confetti, every little detail matters. Read more about CR Flower & Gifts ~ A Bracebridge Florist

Summer Reception (Timeless Weddings of Mississippi), Summer Herb Wedding Bouquet (Hearts and Flowers), Beach Wedding Cake (G. Elliot Catering), Outdoor Reception (The Wild Bunch), Beach Chair Markers (Hearts and Flowers), Wedding Bouquet (Brittany Flowers of Kirkland), Summer Treats (Culinary Productions), Beach Wedding Portrait (AL Torres Photography)

For more vendors in your area, visit Wedding And Party Network for all of your wedding and party planning needs!